This is an archived article and the information in the article may be outdated. Please look at the time stamp on the story to see when it was last updated.
A 22-year-old Ohio man allegedly called police recently to report that he was "too high" on marijuana, according to KTLA sister station WJW.
Police arrived at the unidentified man's home in Austintown at approximately 5:20 p.m. Oct. 2, authorities told the Cleveland-based television station.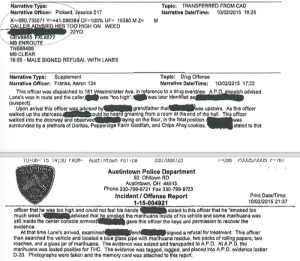 Officers found the man on the floor "in a fetal position," surrounded by "a plethora of Doritos, Pepperidge Farm Goldfish and Chips Ahoy cookies," a police report stated.
According to the report, the man told an officer he couldn't feel his hands because he smoked too much weed.
He gave the officer the keys to his car, where he had allegedly smoked the pot. The officer recovered a glass pipe, rolling papers, roaches, and a glass jar of marijuana.
Charges are pending for drug possession and drug paraphernalia, the police report stated.