This is an archived article and the information in the article may be outdated. Please look at the time stamp on the story to see when it was last updated.
President-elect Donald Trump has won Michigan's 16 electoral votes, the secretary of state's office announced on Monday.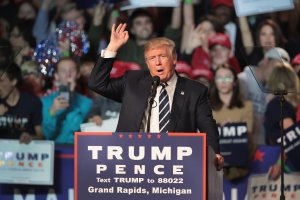 This brings the final electoral tally for Trump 306, while former Democratic nominee Hillary Clinton has 232 electoral votes.
Trump has won the state of Michigan by a 10,704 vote margin, with the President-elect earning 2,279,543 votes (47.5%) and Clinton earning 2,268,839 votes (47.3%).
Michigan was the only state that hadn't officially been called because the vote was too close for CNN's election results.
Clinton continues to lead Trump for the country's popular vote by about 2 million votes and the lead is likely to grow as votes are still being counted.
It's likely Green Party nominee Jill Stein, who has initiated recounts in other close states, will also ask Michigan to check their results.