This is an archived article and the information in the article may be outdated. Please look at the time stamp on the story to see when it was last updated.
A recent meth lab bust by deputies in Louisiana resulted in two drug arrests and an unexpected discovery.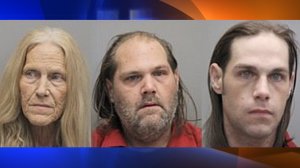 Sheriff Craig Webre says his deputies found more than 130 cats when they were sent to a residence last month, WGNO reported. They also found seven dead cats and describe the living conditions as "very poor" with "a large amount of fecal matter" throughout the residence.
It took animal control deputies several days to remove all the cats and bring them to the Lafourche Parish Animal Shelter. Officials say all the cats were euthanized "due to their condition."
Lafourche Parish deputies arrested Sandy Chauvin on Feb. 1 and booked her with animal cruelty and drug charges. She was released after posting $40,000 bond.
The bust happened Friday, January 13, when deputies searched the house in Houma after arresting Chauvin's son, Nicholas Chauvin, for distribution of methamphetamine.
Deputies say they found "tools and other items commonly associated with the manufacture of methamphetamine" at the house and also arrested his brother, Christian Chauvin, for drug charges.