This is an archived article and the information in the article may be outdated. Please look at the time stamp on the story to see when it was last updated.
Authorities say they've found the body of a missing West Virginia girl and her mother's boyfriend has been arrested.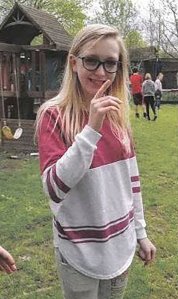 News outlets report Morgan County Sheriff K.C. Bohrer said during a news conference Thursday that 15-year-old Riley Crossman's decomposed body was found on an embankment near a road in rural Berkeley County by officers from the Division of Natural Resources. The Berkeley Springs High School student had been reported missing May 8 by her mother.
Bohrer said 41-year-old Andy J. McCauley Jr. was taken into custody hours after the body was found and charged with murder. Bohrer said McCauley had been a person of interest since the first day of the investigation.
Online jail records show McCauley is being held without bond. The records don't say whether he has an attorney.