This is an archived article and the information in the article may be outdated. Please look at the time stamp on the story to see when it was last updated.
A North Carolina man who said he was "on the neighborhood watch" fatally shot a 20-year-old from inside his garage before telling a 911 dispatcher he was protecting his family from "hoodlums," according to Raleigh police.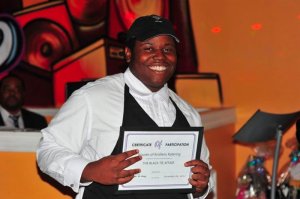 Chad Copley, 39, was charged with the death of Kouren-Rodney Bernard Thomas, who police said was outside Copley's home when he was shot just before 1 a.m. Sunday. Copley is being held without bond at Wake County Detention Center, police said.
Thomas is African-American. Copley is white.
Police said Copley used a shotgun, but they haven't disclosed the type of shotgun or the ammo used.
The News & Observer in Raleigh reported Monday that there was glass in Copley's yard and driveway from the blast traveling through one of the home's windows. There were also blood stains and bloody gauze a few feet from the street, the newspaper reported.
Wearing a red prison jumpsuit, Copley entered a courtroom Monday and winked at his family in the gallery. A judge assigned the Capital Defenders Office to defend Copley.
The office told CNN that Raymond Tarlton would represent Copley. Tarlton's office issued a brief statement saying it was in the preliminary stages of its investigation and cautioning against a rush to judgment.
"We have seen too many wrongful convictions for anyone or any organization to jump to conclusions on the basis of someone being charged," the statement said.
Trayvon Martin redux?
Though there appears to be no evidence of a physical altercation between Copley and Thomas, the case bears similarities to the shooting death of Trayvon Martin, in which neighborhood watch volunteer George Zimmerman killed the unarmed teen in Sanford, Florida, in 2012. A jury found Zimmerman, who claimed he had shot Martin in self-defense, not guilty in the teen's death.
Much like the Martin case, Sunday's shooting can be partially pieced together through 911 calls.
It begins when a man calls police from Copley's two-story single-family home to report "a bunch of hoodlums out here racing."
"I am locked and loaded," he tells the dispatcher. "I'm going outside to secure my neighborhood. You need to send PD as quickly as possible."
The dispatcher asks, "I'm sorry. You're going out to do what to the neighborhood, sir?"
"I'm going to secure my neighborhood. I'm on the neighborhood watch. I'm going to have the neighbors with me. There's hoodlums out here racing up and down the street. It's 1 o'clock in the morning. There's several dozen of them. They have firearms, and we're going to secure our neighborhood. If I were you, I'd send PD as quickly as possible."
Asked if he can provide a house number or intersection, he says "Negative, ma'am. It's on Singleleaf, Raleigh, North Carolina. PD know where this is at."
'I fired a warning shot'
Another man calls 911 shortly thereafter to report a shooting.
"Someone shot him out of his house," the caller tells the dispatcher.
Asked his name, the caller hangs up.
A woman then calls from Copley's home and says she's upstairs with her children before giving the phone to a man who acknowledges someone was shot and that he fired his weapon, but he seems unsure whether his shot hit anyone.
"We have a lot of people outside our house yelling and shouting profanities. I yelled at them, 'Please leave the premises.' They were showing a firearm, so I fired a warning shot and we got somebody that they got hit."
"OK, so somebody was shot?" the dispatcher asks.
"Well, I don't know if they're shot or not, ma'am. I fired my warning shot like I'm supposed to by law. They do have firearms, and I'm trying to protect myself and my family," the man replies.
The dispatcher asks who is outside his house, and the man says he doesn't know but there's a party at a nearby home. The back-and-forth is interrupted by some sort of commotion before the man again orders the dispatcher to send police.
"There are frigging black males outside my frigging house with firearms. Please send PD," he says.
'I'm trying to secure my premises'
Another witness then calls to say someone had been shot in the arm in front of Copley's home. Again, commotion muddles the audio.
The witness says the 20-year-old victim was shot in the arm, is unconscious and lying in the road. He doesn't know who fired the shot, he says.
Other witnesses claim the gunshot came from inside the home, the person tells 911.
A dispatcher then calls Copley's home to gather more details, and the man who made the initial call tells the dispatcher, "Ma'am, I don't know these f***ing people. I'm trying to secure my premises. Please send PD immediately."
The dispatcher says police are on the way. The man responds that the dispatcher is "killing time," and she argues that she isn't wasting time and that someone else is dispatching police. The call appears to end abruptly.
Thomas was pronounced dead at WakeMed Hospital in Raleigh, police said.
'He loves pink'
Jalen Lewis, who hosted a party at his home, two doors down from Copley's, on the night of the shooting, said the victim was one of roughly 50 guests at the party, he told CNN affiliate WTVD.
He didn't know Thomas personally, he said, and he didn't see anyone armed or causing problems outside his home that night. Lewis told WTVD he has never interacted with Copley in the seven years he's lived in the Raleigh neighborhood.
"The man's body was right in front of the mailbox," Lewis told the station, pointing to Copley's mailbox. "I don't know how (Thomas) was a threat from the garage."
Thomas' mother, Munyir Simone Butler Thomas, has set up a GoFundme page to cover her son's funeral costs. On the page, she said Thomas was out celebrating a move to a new apartment on the night he was killed.
"Koury was my baby and I love him. He loves pink and all I want to do is send him off well. He was fun, lovable, caring, just a good guy, and very overprotective of me his mother and other loved ones in general," she wrote. "I ask that you reach down in your heart and help me create a celebration of life for Koury."
Raleigh police don't know if Thomas or anyone accompanying him was armed, said spokeswoman Laura Hourigan. Police records show authorities were not called to the block — for the party or otherwise — before the first call in which the man told the dispatcher he was going to "secure the neighborhood."
As for whether Copley was acting in a neighborhood watch capacity, Hourigan said there were many such groups in the community, but she is "unsure if that one is a registered group or not."