This is an archived article and the information in the article may be outdated. Please look at the time stamp on the story to see when it was last updated.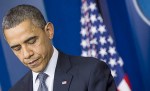 WASHINGTON (CNN) — Let the endgames begin.
After a Christmas holiday, President Barack Obama returned to Washington from Hawaii and the U.S. Senate reconvened Thursday as the deadline approached for going over the fiscal cliff of automatic tax hikes and spending cuts.
However, the House remained on Christmas break, with members warned they could be called back on 48 hours' notice if needed.
Hopes for a so-called grand bargain that would address the nation's chronic federal deficits and debt appeared dashed for now, with four days remaining to reach agreement on a smaller plan that would avoid the harshest effects of the fiscal cliff's tax increases and slashed spending.
With House Republicans unable to resolve the impasse, the focus shifted to the Democratic majority in the Senate to come up with a way forward that could pass the House and get signed into law by Obama.
In the Senate, Majority Leader Harry Reid of Nevada expressed doubt that enough time remained to reach an agreement, especially with the House at least 48 hours from coming back.
"I don't know, time wise, how it can happen now," he said as he opened the Senate's first session back from the holiday.
The White House said Thursday that the president spoke with all four congressional leaders before leaving Hawaii on Wednesday. Spokesmen for Republican leaders of the House and Senate made clear, though, that Reid and Senate Democrats needed to offer a proposal now.
Read more on CNN.com