This is an archived article and the information in the article may be outdated. Please look at the time stamp on the story to see when it was last updated.
As Hurricane Irma heads toward Florida, the Texans impacted by Hurricane Harvey hope they won't be forgotten.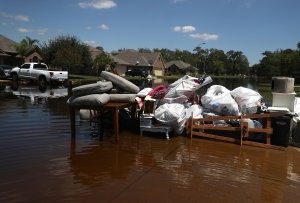 Exactly two weeks after Harvey made landfall on the Texas coast, most of downtown Houston is dry and life is starting to return to normal. But the damage there and in surrounding cities is still being assessed.
Harvey came ashore August 25 as a Category 4 hurricane with high winds and a destructive storm surge. After it moved slightly inland, it swirled in place over southeast Texas for a few days, dropping record-shattering rain and flooding several areas.
The storm and subsequent flooding left more than 70 people dead and ravaged nearly 300 miles of the Texas coast and parts of Louisiana, flooding homes and displacing more than a million people. More than 21,000 people remain in shelters Friday, according to the Texas Department of Public Safety's situation report.
All told, the storm caused an estimated $75 billion in damage, officials said, making it one of the most expensive natural disasters on record.
Some homes and buildings still sit underwater. In Harris and Fort Bend Counties, the US Army Corps of Engineers has begun releasing water from the Addicks and Barker dams to help the swollen Buffalo Bayou recede within its banks. If it rains again before the dams are empty, the Corps warns there's still a threat of more flooding downstream.
In Beaumont, southeast of Houston, many residents wait in lines to get water, food and supplies such as diapers and baby wipes. The trail of cars stretches out for a couple of miles each day from several places distributing resources.
Still in 'rescue, recovery' mode
"We are still in a rescue/recovery. Probably a 25% rescue; 75% recovery," said Maj. Roy Williams, the incident commander for the Salvation Army's response team in Texas' Golden Triangle — made up of hard-hit Beaumont, Port Arthur and Orange. "There's still people who — the water has not come down and they have either not gotten back to their house or they are still in their house."
The Department of Public Safety reported that, as of Friday, 122,331 people were rescued or evacuated after Harvey, along with 5,234 pets.
Beaumont has been under a boil-water mandate after its water treatment facilities were compromised by floodwaters. While the plants are being fixed, officials await new tests to make sure the water is safe to drink.
Interstate 10 is open in East Texas, but the evidence of Harvey's passage can be seen from the highway just east of Beaumont. In Rose City at an RV park, several recreational vehicles appear to be parked in a lake at random angles, and one is tossed on its side. The water is still up to the roofs of some cars.
No place to stay, no work
Chris Jones and his wife drove his large pickup truck through the water to recover what they could from his RV. The vehicle is a total loss and while he has insurance, his hopes aren't high. "I'll never get what I paid for it," Jones said, noting that over time he'd filled it with plenty of things that can't be replaced.
The RV serves as his home away from his Dallas-area home while he works as a foreman at a refinery. Without any affordable hotels for two hours in either direction, he says he'll have to buy another RV. But after rescuing his boat and kayaks from the floodwaters, he and his wife began the drive home. No RV means he can't work — just one example of the economic impact of Hurricane Harvey.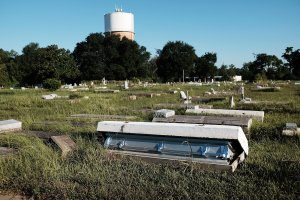 After the water, mildew and mold
Other residents have already emptied their once-flooded homes of all their contents, including the waterlogged drywall. The hope is to get in front of the mildew and mold already blooming and acrid in the humid Texas heat. Across the region, driveways, front lawns and curbs are covered with what was once inside homes. In Houston, the city has brought in large trucks and other equipment to begin clearing the streets of residential debris.
Daniela Alvarado and Leonardo Aguirre live in one of these hard-hit Houston areas. For them, the flooding was a family affair. Nine of their family members' homes are also in their Lakewood neighborhood in northeast Houston and all had some level of flooding. The damage to their home is much worse than they expected. Aguirre has lived here since 1991. He remembers Hurricane Allison in 2001 but says Harvey was much worse. Still, the couple and their two children plan to stay put.
"We are buying the house. I mean we are practically almost done paying it. We can't just go somewhere else and start all over. I mean there's something here, I think, to rebuild. So we are going to try again," Aguirre said. This, after the family just finished remodeling about 90% of their house within the last three months.
If another hurricane heads their way, the couple says they would make some different choices. "I think I would just try to evacuate because putting my kids at risk and all of the things that we had to do just to get out of here, I wouldn't want to go through that again. I mean it was a scary sight," Aguirre said.
Another threat: mosquitoes
Mosquitoes pose another threat, with all the standing water providing the perfect breeding ground for the bugs that can carry Zika or the West Nile virus. The Texas Department of State Health Services has begun aerial insecticide spraying in Refugio and Bee Counties near Corpus Christi. The state also is requesting further assistance from the Federal Emergency Management Agency.
As needs are still being assessed, all five living former presidents have teamed up to raise money for Hurricane Harvey victims. Called the One America Appeal, the initiative features the cooperation of Jimmy Carter, George H.W. Bush, Bill Clinton, George W. Bush and Barack Obama. One America Appeal is also prepared to raise money to help Americans impacted by Hurricane Irma if needed.