This is an archived article and the information in the article may be outdated. Please look at the time stamp on the story to see when it was last updated.
A Tara Air plane carrying 23 people crashed Wednesday in a mountainous region of northern Nepal, officials said.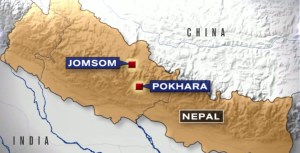 Everyone on board is feared dead, Nepali Tourism and Aviation Minister Ananda Pokharel said. He said a few bodies have been found but are unrecognizable.
Earlier, Tara Air spokesman Bhim Rai said 21 people were on board. He updated the number to 23 after learning that two infants were also on the plane, but their names were not on the initial report.
The Twin Otter plane took off Wednesday morning from the city of Pokhara. It was scheduled to land in the town of Jomsom, Rai said.
The total flight time was supposed to be 19 minutes, but contact was lost eight minutes after takeoff.
Residents in Nepal's Myagdi District saw flames shooting up from a forest and called security officials, Pokharel said. Authorities arrived and found the plane's wreckage.
The plane was carrying 20 passengers and three crew members, Rai said. The passengers include two foreigners — one Chinese and one Kuwaiti.
The cause of the crash has not been determined.
Rai said the weather was clear when the plane took off Wednesday morning. He said the Twin Otter plane was new, imported from Canada last September.
On its website, Tara Air describes itself as "the newest and biggest airline service provider in the Nepalese mountains," with seven aircraft in its fleet.
The airline said its mission is to help develop rural Nepal.
Pokhara, where the flight originated, is one of the most popular tourist destinations in Nepal. Jomsom is the gateway for one of the most popular Himalayan trekking routes.
Previous crash in same area
The region where the plane crashed is a notoriously windy, cold and mountainous area.
In 2012, an Agni Air plane flying the same route from Pokhara to Jomsom crashed, killing 15 people. Six people survived.
A technical problem prevented that plane from landing normally, said Bindesh Lal Karna of the Rescue Coordination Committee at Tribhuvan International Airport in Kathmandu.
The pilot decided to turn the plane around and head back to Pokhara, but as he did so, the plane dropped out of the air.