This is an archived article and the information in the article may be outdated. Please look at the time stamp on the story to see when it was last updated.
Counterterrorism forces have arrested a man suspected of being a key planner of last year's terror attack on a cafe in Dhaka, Bangladesh, a top police official said Saturday.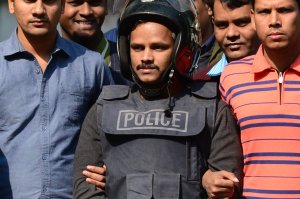 Jahangir Alam, 32, was apprehended Friday night in the Tangail district, about 100 kilometers (62 miles) northwest of Dhaka, Shahidul Hoque, inspector general of the Bangladesh police, told CNN.
Two police officers and 21 captives were killed in July when armed gunmen stormed an upscale cafe and took hostages.
Another alleged attack planner, Nurul Islam Marzan, was killed in a shootout with police a week ago.
Alam is alleged to be a highly ranked leader of a group called Jamaatul Mujahideen Bangladesh, or JMB, a local terror group that authorities accuse of being responsible for the attack, though ISIS also claimed responsibility.
He is said to have been involved in the planning of attacks on Hindu and Christian priests in recent years.
Two other men thought to be main organizers behind the attack were killed last year.
Bangladeshi-Canadian Tamim Ahmed Chowdhury was killed in August, and Abdur Rahman died in October after jumping off a fifth-floor balcony while trying to escape police.
Though Bangladesh has dealt with terror attacks in the past, with secular bloggers, Hindu priests and others killed in cold blood, the July 1 cafe attack was of a much larger scale.
The assailants appeared to be "normal, regular guys," and their target was the Holey Artisan Bakery in the city's Gulshan district, one of Dhaka's most affluent neighborhoods and a diplomatic enclave.
JMB is a Sunni Muslim extremist group that has pledged its allegiance to ISIS. It aims to transform Bangladesh into an Islamic state based on Sharia law.