This is an archived article and the information in the article may be outdated. Please look at the time stamp on the story to see when it was last updated.
Police uncovered $1 million worth of a marijuana plants at a licensed day care facility in West Haven, Connecticut, and soon those involved could face serious charges, according to authorities.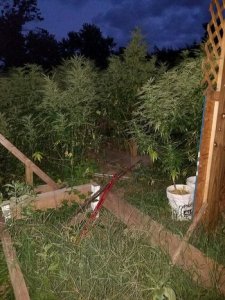 West Haven Police Department officers were called to a home on Norfolk Street on Friday and allegedly found 600 marijuana plants in the backyard, according to KTLA sister station WTIC. The street value of the plants after processing was estimated to be over $1 million.
State inspectors discovered the marijuana plants growing in the backyard of the home day care and called local police.
The day care facility was shut down by city housing inspectors, and the day care license was immediately revoked.
State inspectors were originally called to the site due to the poor building conditions. The building has been condemned and no one is allowed inside, police said.
At the site, police found a newly built wooden fence that concealed the hundreds of plants. Police said the marijuana plants were between six and ten feet tall.
Next door neighbors Ivette Quiles and Frankie Torres said the couple who lived in the home kept to themselves. When they saw all the police activity, they knew something was up, but didn't expect this.
"I saw him building something in the backyard and kind of thought it was just a regular fence," Torres said.
The discovery had neighbors talking about what was behind that fence.
"I should have smelled that. That's crazy. I didn't expect that," said another neighbor Robson Antoine. "And they have a daycare? Not good."
State records show Rosalee Miller has run a day care facility for six children at that address since 1995. Police confirmed that she ran the day care at that address.
At this point, Miller has not been charged but police said that arrests are forthcoming. They said whoever is arrested in this case faces several felony charges including risk of injury to a minor and operating a drug factory.