This is an archived article and the information in the article may be outdated. Please look at the time stamp on the story to see when it was last updated.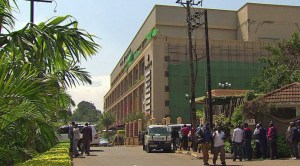 CNN reported Sunday that three of the alleged gunmen in the deadly Kenya mall attack are American.
The cable news network tweeted, "Three of alleged attackers at Nairobi mall are from U.S., according to sources within terror group Al-Shabaab."
Al-Shabaab is a Somali affiliate of al-Qaeda.
On Saturday, the group claimed responsibility for the attack and live blogged it on Twitter.
At least 68 people died in the violence and more than 175 were injured.