This is an archived article and the information in the article may be outdated. Please look at the time stamp on the story to see when it was last updated.
Several Michigan state officials, including some who reported to Gov. Rick Snyder, have been charged with involuntary manslaughter in connection with a Legionnaires' outbreak that killed 12 people during the Flint water crisis, the Michigan attorney general's office said Wednesday.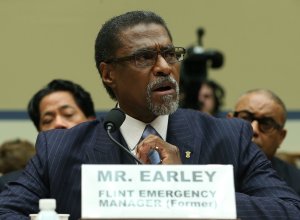 Charges were announced for five state and city officials, including Nick Lyon, the current director of the Michigan Department of Health and Human Services. Former Flint emergency manager Darnell Earley, who had previously been charged, also now faces involuntary manslaughter, along with three other lower-ranking officials, according to the attorney general's office.
Another high-ranking state health department official, Dr. Eden Wells, was charged Wednesday with obstruction of justice and lying to an officer.
At a news conference, Attorney General Bill Schuette told reporters the announcement is about restoring accountability and trust.
"That arrogance that people would want to sweep this away and that there are nameless, faceless bureaucrats who caused this and no one responsible is outrageous," he said adding that this is proof the system is working.
The Michigan Department of Health and Human Services had no comment when asked about the employment status of Lyon and Wells, who are both still listed on the department website under executive bios.
Snyder threw his support behind Lyon and Wells, saying they will keep their jobs and have "my full faith and confidence." He criticized Schuette's investigation thus far, saying "some state employees were charged over a year ago and have been suspended from work since that time. They still have not had their day in court. That is not justice for Flint, nor for those who have been charged."
Fifteen people have been charged as a result of Schuette's ongoing investigation into the Flint water crisis. Schuette said his investigation will continue as they keep combing through evidence. So far, more than 250 people have been interviewed and hundreds of thousands of emails reviewed. It's the largest investigation in Michigan history.
Speaking directly to Flint residents who have been calling for Snyder to be among those charged, Schuette said the evidence so far has not supported his arrest. He added that "we attempted to interview the governor, we were not successful."
"Today's announcement that additional state officials will face criminal charges is an indictment of the state's failed policies that led to this crisis," Congressman Dan Kildee, a Democrat of Flint Township, said in a statement.
Some of the charges deal with lead poisoning, and the reason the city changed its water supply, while others deal with the spread of Legionnaires' connected to the crisis. There are also charges that range from willful neglect of duty, misconduct and conspiracy.
Wednesday marked the first time charges of involuntary manslaughter were brought.
Kildee noted that the crisis is not over yet. "The state and the Governor created this crisis and they must do more to help Flint's recovery."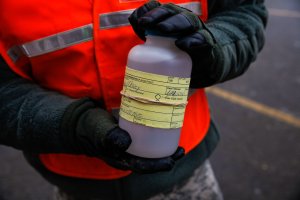 'A beginning, maybe, for some justice'
Wednesday's charges revolve around two waves of a deadly Legionnaires' disease outbreak in Flint. County health officials told CNN last year the outbreak could have been stopped, but they were stymied by state officials.
In the end, 12 people died and more than 80 were sickened.
Troy Kidd, whose mom Debra died in August 2015, said the news of the charges was a "sorrow happiness."
"It's a whole 'nother chapter to what's getting to be a long novel," Kidd said.
His mom contracted Legionnaires' at Flint's McLaren hospital while being treated for a migraine. Legionnaires' is a respiratory bacterial infection usually spread through mist that comes from a water source; it isn't spread person-to-person. Symptoms include fever, chills and a cough.
To the defendants, he said, "you're responsible for the well-being of other people, you can't just negate that duty and stand by idly and watch to see if something bad happens."
Another Flint resident, Keri Webber, said her daughter, Stephanie, got Legionnaires' in August of 2015 at the age of 20 and survived it.
"This is not a win for the people, however it is a beginning, maybe, for some justice," Webber said. "Hearing them talk this morning that the first time (state officials) knew was in 2014 — Steph never needed to have Legionnaires', if they had just said something. Now she has breathing problems and permanently will."
Webber also said that Snyder's statement in support of Lyon and Wells was "horrifying."
"How does anyone in Michigan trust him?" she said of Snyder. "They didn't just miss a little bit of information. We have a lot of people gone. A lot of people permanently ill. If I did this at a work position, I would not still be in my job. I can't see asking the residents of Genesee County to continue to believe them as we go through this process."
Attorneys for Wells and Lyon did not respond to a request for comment.
Questioning the source of the outbreak
Lyon has insisted publicly that it's McLaren hospital that is the culprit for the outbreak, not the state or the water supply.
Schuette and prosecutors shot down that argument at the press conference, stating that the source of the Legionnaires' outbreak was the water, not the hospital, and said experts would testify to that. Prosecutors say that more than 50% of the cases came from outside the hospital.
Charging documents also allege that professors at Wayne State University were asked by Snyder's office to do research into the Legionnaires' outbreak and a possible link to the water in Flint. Lyon said the research wasn't something the state could afford, despite a doctor's response that the decision could "cause more people to die."
"Defendant Lyon responded that he 'couldn't save everyone,' " according to the charging documents.
During a meeting, Dr. Paul Kilgore, an associate professor at Wayne State University, stressed the necessity of the research, stating that more people would die. Charging documents said Lyon responded with "they have to die of something."
Kilgore told prosecutors that public notice should have been made of the Legionnaires' outbreak about a year earlier than it was.
Court papers say Lyon is accused of "failing to alert the public about a Legionnaires' outbreak in Genesee County when he had notice that another outbreak was foreseeable and … conducting an investigation of the Legionnaires' outbreak in a grossly negligent manner."
He's also charged with a count of misconduct in office for "intentionally withholding information about the outbreak from Governor Rick Snyder contrary to" his duties, as well as "directing a health official to discontinue an analysis that would aid in determining the source of the Legionnaires' disease outbreak and save lives," court papers say.
Wells is accused of lying about the date she learned of the Legionnaires' outbreak, and of obstruction of justice for "providing false testimony to a special agent and by threatening to withhold funding for the Flint Area Community Health and Environmental Partnership if the partnership did not cease its investigation into the source of the Legionnaires' disease outbreak in Genesee County."
More charges
Prosecutors also said that they plan to present evidence supporting involuntary manslaughter charges against four state and city officials who are already facing other charges relating to the water crisis.
They are:
Darnell Earley, Flint's former emergency manager, who reported directly to the governor and was previously charged with lying on a bond application to get money to switch Flint's water supply.
His attorney, Todd Perkins, told CNN, "it would be premature to make a comment" at this time.
Liane Shekter-Smith, former supervisor at the Michigan Department of Environmental Quality, who was previously charged with misconduct and willful neglect related to inaction on Legionnaires' and lead issues in Flint.
Her attorney, Brian Morley, said he has not seen any court paperwork and could not comment.
Howard Croft, former director of public works in Flint, previously charged with lying on a bond application to get money to switch Flint's water supply.
His attorney, James White, told CNN that Croft is innocent and being scapegoated. "I think that Mr. Croft is a victim of public pressure and to some extent political motivations. There's several parties that have motivations outside of the raw basic interest of finding justice for the people of Flint."
Stephen Busch, former district coordinator for the Michigan Department of Environmental Quality office of drinking water, previously charged with misconduct, tampering, and related charges, after being accused of violating the Safe Water Drinking Act, and ordering a local official to manipulate water samples.
His attorney, Mark Kriger, said that his client was not yet formally charged with involuntary manslaughter, but that the announcement today simply leaves open that possibility.
"The filing only puts the defendant on notice that if the proof at the preliminary examination supports a charge of involuntary manslaughter, prosecutors will seek to amend the complaint at that time," Kriger said. But no additional charges at this time have been filed."