This is an archived article and the information in the article may be outdated. Please look at the time stamp on the story to see when it was last updated.
They gathered at the Emanuel African Methodist Episcopal Church to study the Bible — a small group, 13 people. Many were familiar faces. One was a stranger.
But it was unfathomable that he was a killer lying in wait, a man who would shoot nine churchgoers and church leaders in cold blood.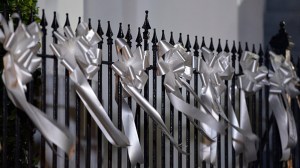 Police say Dylann Roof went to the church in Charleston, two hours from his home, and shot dead the pastor, other reverends and people who had come Wednesday to learn more about the word of God.
Here's what we know about eight of the deceased:
Pastor approached life with purpose
The Rev. Clementa Pinckney died Wednesday doing the work he had always felt was right for him.
He was spreading the Word when he and eight others were gunned down in the massacre.
Pinckney, 41, answered the call to preach nearly 30 years ago, at the age of 13, according to a biography on the church website.
He was a high achiever all his life. He was first appointed a pastor when he was 18. He graduated from Allen University magna cum laude and was president of the student body.
Ebony magazine included him as one of its "Top College Students in America."
In 1996, at 23, he was elected to the South Carolina House of Representatives, the youngest black person ever.
Four years later, he was elected to the state Senate.
Pinckney pushed for legislation to make police wear body cameras, believing it would protect lives, said his cousin, state Sen. Kent Williams.
When he was in the Legislature, national recognition of his achievements continued. Washington Post columnist David Broder called Pinckney a "political spirit lifter for surprisingly not becoming cynical about politics."
U.S. Rep. Mark Sanford, a former governor of South Carolina, was among those who paid tribute Thursday.
"He was a remarkable human being," Sanford told CNN's "New Day." "He had a gravelly, deep voice — a radio announcer's voice, if you will — and he approached life with that same level of gravitas."
Williams called him "a man of character." "He was a God-fearing man. He was a family man."
Williams added, "He had a passion for helping the poor, for helping to improve the quality of life for all mankind. But especially those who are the least among us."
Pinckney left a wife, Jennifer, and two children, Eliana and Malana.
Library worker 'dedicated her life' to improving those of others
Cynthia Hurd loved God, her family, books and her community, her brother Malcolm Graham told CNN.
He described her as the matriarch of the family and the glue that kept them together.
She was baptized in the church and went there her whole life. Her late mother sang in the choir.
So it was no surprise she would be there on a weeknight attending Bible study.
Hurd's loss is "incomprehensible" to the Charleston County Public Library, where she worked.
The library said she was much more than an employee. Hurd "dedicated her life to serving and improving the lives of others," the statement said.
All 16 branches of the library were closed Thursday in honor of Hurd, 54, who was manager of the St. Andrews Regional Library. The branch will be renamed in her honor.
"We ask for prayers for her family, her co-workers, her church and this entire community as we come together to face this tragic loss," the library statement said.
Hurd had worked for the library — "helping residents, making sure they had every opportunity for an education and personal growth" — for 31 years, the statement said.
Her husband, Steve, was working as a longshoreman in Saudi Arabia and the family is trying to get him home. Graham is one of her four older brothers. She also has a younger sister.
Speech therapist, reverend was also among victims
Sharonda Singleton was living what would appear to be a full and busy life.
She was a speech therapist and track coach at Goose Creek High School in South Carolina, having been a track and field athlete when she attended South Carolina State University in Orangeburg.
And she was also a reverend at the Emanuel AME Church, where the killings took place.
She was one member of a sporting family.
She was married to Christopher Singleton, who played football at Tennessee State University in his college days.
And her son, Chris, who was born in 1995, plays baseball for Charleston Southern University.
On Thursday, a day after his mother died, Chris Singleton was on Twitter, asking people to pray for her.
Myra Thompson, Bible study teacher
Myra Thompson, 59, also died in the shooting, according to Bishop Alphonza Gadsden, who was notified by the victim's family. Gadsden had known Thompson for a decade.
"She was a person who loved the Lord. Her every objective was to please him in all that she did. She was teaching Bible study when she was killed," she said
Tywanza Sanders, the 'youngest victim'
Tywanza Sanders' profile picture on Facebook is a selfie showing a young man with a winning smile and a sideways cap.
Not only did he smile a lot, he made his friends happy.
"If you met him, you knew you had a good friend on your side, regardless of anything," T.J. Grant told CNN. "He made you smile even when you didn't want to smile."
His friend was very loving, especially of his family, Grant said. Sanders spoke of his mother often, and went to see her all the time.
He died trying to save his aunt, Susie Jackson, Grant and A.J. Harley said they were told.
Sanders was a quiet yet well-known student committed to his education, according to a statement from Allen University, from which he graduated in 2014.
The university, in Columbia, South Carolina, is the same one from which Pinckney had graduated years earlier.
The university said Sanders was the youngest victim of the shooting, but it did not give his age.
He graduated, the university said, from its Division of Business Administration.
His colleagues were moved by his warm and helpful spirit, the university said.
Sanders' most recent Facebook post, at around 6 p.m. ET Wednesday, featured a video with comments underneath.
"Ever notice how the mainstream media treats black protesters & white rioters differently?" the text asked.
Sanders seemed a young man intent on going places.
His cover photo on Facebook — the banner photo that spreads behind the profile picture and tops the page — featured only words in light letters set against a dark background.
They said simply: "Your dreams are calling you."
University employee was 'a warm and enthusiastic leader'
The Rev. DePayne Middleton-Doctor, 49, worked as an admissions coordinator at the Charleston learning center of Southern Wesleyan University.
"Always a warm and enthusiastic leader, DePayne truly believed in the mission of SWU to help students achieve their potential by connecting faith with learning," university President Todd Voss said.
Middleton-Doctor had just started working at the learning center of the Christian college in December.
She received her Master's degree in management from the school in 1994 after doing her undergraduate work in biology and life sciences at Columbia College. She was an experienced grant writer and was a consultant for school districts before joining Southern Wesleyan, the school said.
She had four daughters, friends told CNN.
She still sang in the choir
Susie Jackson, 87, was a longtime member of the church, her grandson told CNN affiliate WEWS in Cleveland, Ohio. Tim Jackson said his grandmother was a "very helpful person."
She was a choir member and also was on the usher board of the church, where she had been a member for many years.
Susie Jackson was a very loving, giving person with a great smile, her grandson told the station.
Beloved former employee was enjoying retirement
Her former co-workers missed Ethel Lance. The 70-year-old had retired in 2002, but she left her mark at the Gaillard Auditorium . She ruled the backstage for 34 years, said Cam Patterson, Charleston's director of special facilities.
"Nobody dared try to move into her territory. That was her pride and joy," Patterson said.
Lance was a wonderful employee and person, Patterson said.
Correction: A previous headline incorrectly stated Pinckney was a former state senator. He was a member of South Carolina's senate at the time of his death. The story has been updated.