This is an archived article and the information in the article may be outdated. Please look at the time stamp on the story to see when it was last updated.
Southwest Airlines airlifted around 500 of its customers out of the closed Houston Hobby Airport Sunday, according to airline and U.S. government sources with knowledge of the operation.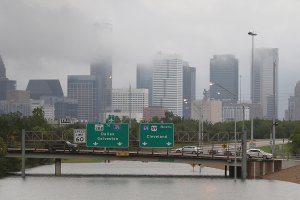 The Southwest customers were stranded inside the airport when the FAA closed it earlier Sunday morning. All roads to and from the airport were also closed. It was unclear how many others were stuck at the airport.
The humanitarian rescue mission underscores the severity of Hurricane Harvey's impact on the Houston area.
Five of the airline's stranded Boeing 737s flew out of the flooded airport Sunday evening back to Love Field in Dallas, according to one of the sources.
Southwest did not immediately respond to a request for comment.
The airline received clearance from the Federal Aviation Administration to operate out of the closed airport, according to the two sources. Hobby Airport is expected to remain closed to all non-emergency air traffic until Aug. 30 at the earliest, according to the FAA.
Without working airport lights at Hobby Airport, the Southwest aircraft had to move quickly before the sun set over the storm-battered city.
Separately, with those five aircraft able to depart Sunday, the airline still has 10 remaining aircraft on the ground at Hobby, according to the sources.
Hobby is the smaller of two main Houston-area commercial airports.