This is an archived article and the information in the article may be outdated. Please look at the time stamp on the story to see when it was last updated.
A Florida couple was pleasantly surprised when they got the pictures back from their recent wedding and saw that their first kiss as a married couple had been photobombed by a dolphin.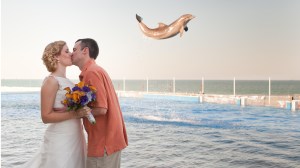 Alexis and Steve Espey said their "I do's" at Marineland Dolphin Adventure near St. Augustine, Florida last month, according to Caters News Agency, which provided the photographs to KTLA.
While sealing their wedding vows with a kiss, the dolphin suddenly jumped from the tank of water that served as the backdrop for their nuptials.
The stunning pictures were captured by wedding photographers Sarah and Ben McLachlan.
Sarah McLachlan told the news agency it was a "magical" moment.
"Everyone was already clapping for the couple, but when the dolphins jumped everyone went wild as though it was something from the movies – it was magical," she said.