This is an archived article and the information in the article may be outdated. Please look at the time stamp on the story to see when it was last updated.
A Texas middle school teacher accused of having sex with one of her 13-year-old students and becoming pregnant with his child has turned herself in, according to authorities.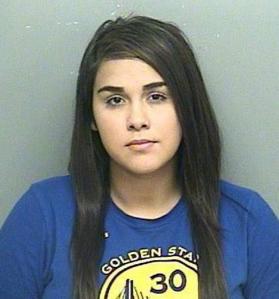 Alexandria Vera, 24, surrendered to authorities at a suburban jail after a warrant was issued for her arrest. Vera was released on a $100,000 bond, according to Montgomery County sheriff's spokesman Brady Fitzgerald, but faces a felony charge of continuous sexual abuse of a child, KIAH reported Tuesday.
At the time of the alleged crimes, Vera was an eighth grade English teacher at Houston's Stovall Middle School.  According to court documents filed on Friday, she met the student during summer school in 2015 and the two began flirting. By September, they had exchanged phone numbers and the student asked Vera if they could hang out. She drove over to the boy's house and picked him up, and they drove around and kissed, the documents stated. The next day, the teacher went back to the teen's house and they had sex, according to KIAH. The boy's parents were not home at the time.
In the probable cause document, Vera stated that she met the parents at the school's open house in October. She said she later went over to his home and was introduced as his girlfriend. His parents were allegedly "accepting of their relationship" and invited her to family gatherings.
Vera told Aldine Independent School District police that she had sex with the teen "on almost a daily basis at her home" after meeting the boy's family.  The student allegedly slept at her house, after which she drove him back home in the morning so he could catch the bus to school.
In January of 2016, Vera became pregnant, court records showed. She told the teen's family about the pregnancy, and they were said to be "supportive and excited" about the expected baby.
Vera claimed she had an abortion after officials with the Texas Child Protective Services unexpectedly showed up at the school in February and questioned her about the relationship. The suspect denied any wrongdoing at the time, but police said they found evidence of the relationship on her cellphone.
"When the allegation was made in April, the teacher was immediately removed from the school and placed on administrative leave," the district's Police Department said in a statement.
KTLA's John A. Moreno contributed to this report.