This is an archived article and the information in the article may be outdated. Please look at the time stamp on the story to see when it was last updated.
The Trump administration again could not determine where nearly 1,500 immigrant children were over a three-month period this year, the second time in less than a year that it admitted it had lost track of hundreds of undocumented children released from US custody.
The findings were released on Tuesday by a bipartisan group of senators who have been working on the issue, as they propose legislation that would make the government responsible for these children even after they are released.
The lack of certainty about where the children are does not necessarily mean they are lost. It could be as simple as no one in the home picking up the phone when Health and Human Services called or not responding to a message. It's possible that some of the families are undocumented and avoiding the government. But it is also possible the children could have ended up with traffickers or people meaning to do them harm.
From April 1 to June 30, HHS made follow-up calls to 11,254 immigrant children it had released from its custody, and could not determine where 1,488 of them were, roughly 13%, according to the findings released by the Senate homeland committee's investigation subcommittee. Twenty-five of the children had run away from the adults they had been placed with.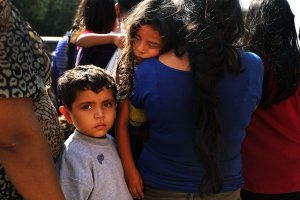 The findings are similar to previous information released by the committee that showed HHS couldn't account for the whereabouts of 1,475 children out of 7,635 calls it made from October to December last year, about 19%.
The undocumented children in question mostly arrived in the US by themselves. They are placed in HHS custody until they can be released to adults, usually family members or parents. Then they have the opportunity to pursue a legal right to stay in the US, if they have one.
"As communicated to members of Congress multiple times, these children are not 'lost,'" said HHS spokeswoman Caitlin Oakley. "Their sponsors — who are usually parents or family members and in all cases have been vetted for criminality and ability to provide for them — simply did not respond or could not be reached when this voluntary call was made."
The lawmakers are introducing legislation that would place more responsibility on the government to keep tabs on the children once they are released from custody. Sen. Rob Portman, an Ohio Republican who's the subcommittee's chairman, became especially invested in the issue in 2015 after eight undocumented children were discovered to have been placed with human traffickers in Ohio.
"This bill will ensure that we keep track of unaccompanied minors in our country, which will both help protect them from trafficking and abuse as well as help ensure they appear for their immigration court proceedings," Portman said in a statement. "These efforts are critical for safeguarding these children and upholding our immigration system. This isn't a partisan issue. The problems that exist today began during the previous administration and have continued under this one, and we have a responsibility to get it right.
The bill would give HHS authority over the children even after they are released from custody, and it mandates background checks for all adults in the home. It allows HHS to take a child back into custody if a custodian who is not the parent does not keep up their part of the custody agreement.
One of the bill's cosponsors, Sen. James Lankford, an Oklahoma Republican, said in a hearing on Tuesday that he also would like to see HHS no longer place undocumented children with anyone who is in the US illegally. An Immigration and Customs Enforcement official who was testifying, Matthew Albence, said that would eliminate roughly 80% of sponsors.
The number of immigrant children in US custody has skyrocketed to record levels, though the rate of unaccompanied minors crossing the border illegally has been relatively steady for several years. The reason, experts and an official with knowledge say, is that it is becoming much harder to release the children from custody after HHS signed an agreement to work with ICE to investigate the adults who come forward to take them in.
The legislation is also being sponsored by Democratic Sens. Tom Carper, of Delaware, who's the subcommittee's ranking member, and Richard Blumenthal, of Connecticut.