This is an archived article and the information in the article may be outdated. Please look at the time stamp on the story to see when it was last updated.
President Donald Trump's administration enacted new sanctions on Iran Friday, the first concrete action after the White House put Tehran "on notice" this week.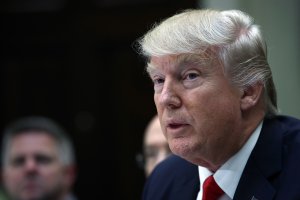 The Treasury Department said it was sanctioning individuals and companies connected to Iran's ballistic missile program and those providing support to Iran's Islamic Revolutionary Guard Corps' Qods Force.
The moves come as punishment for the country's test launch of a ballistic missile last weekend. National Security Adviser Michael Flynn said the move was "provocative" and in defiance of a United Nations Security Council resolution.
The new sanctions are designed not to violate the Iran nuclear deal, which the US and five other world powers signed with Tehran during Obama's tenure. That plan allowed for the lifting of major sanctions against Iran in exchange for a curtailment of its nuclear program.
But they do represent the first concrete step in what the Trump administration has vowed will be a more aggressive approach to Iran.
Trump on Thursday refused to rule out military action against Iran, saying that "nothing is off the table" when it comes to confronting destabilizing behavior from the country. While Obama also refused to rule out military action, Trump's rhetoric reflects a scaled-up posture.
On the campaign trail, Trump railed against the nuclear deal, though his aides have offered a more muted view after he took office. An official who briefed reporters this week suggested the agreement, known as the Joint Comprehensive Plan of Action, would remain in place for now.
In a letter to Trump Thursday, a bipartisan group of senators had encouraged aggressive action against Iran as a rebuttal to its missile launches and support for terror organizations.
"Iranian leaders must feel sufficient pressure to cease deeply destabilizing activities, from sponsoring terrorist groups to continued testing of ballistic missiles," the lawmakers wrote.
"Full enforcement of existing sanctions and the imposition of additional sanctions on Iran for its ballistic missile program are necessary," the letter said.
On Friday, the move drew swift praise from Republicans on Capitol Hill.
"Iran's dangerous and provocative acts are a direct threat to the United States and our allies," said House Foreign Affairs Committee Chairman Ed Royce in a statement. "I'm glad the administration is taking long-overdue steps to hold the regime accountable."
The new sanctions designate Abdollah Asgharzadeh, an Iranian businessman whom the Treasury Department accused of acting as a procurement agent for the ballistic missile program. It also singled out individuals within Asgharzadeh's network.
Other entities that were targeted Friday include trading networks associated with Iran's missile program and a network accused of providing cash transfers to Hezbollah, the Lebanon-based terror group.
The Treasury Department said it was freezing all US assets for those individuals and prohibiting Americans from doing business with them.
The sanctions on Iranian individuals and companies were issued under an existing executive order that Trump's two predecessors, George W. Bush and Barack Obama, also used to punish the country for test launches, most recently in January 2016.
Speaking to reporters Thursday in Tehran, the Iranian adviser, Ali Akbar Velayati, dismissed what he called the US leader's "baseless ranting" and said that even Americans were not satisfied with "Trump's extremism," according to Iran's semi-official Fars News Agency.
Velayati blasted Trump as lacking sufficient experience, saying he should take lessons from his predecessor, Barack Obama. He added that those who threaten the Muslim world should take a look at US failures in Afghanistan, Iraq and Syria.
He also said that all test-fired missiles were defensive and that Iran did not need to seek permission to carry out such activities.