This is an archived article and the information in the article may be outdated. Please look at the time stamp on the story to see when it was last updated.
President-elect Donald Trump said Wednesday he wants to get started on building a wall between the United States and Mexico before striking a deal that he says will reimburse Americans for the cost.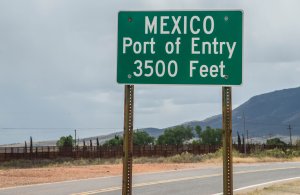 Trump said negotiations with Mexico will start immediately after he takes office, but he wants to begin construction while talks are ongoing.
"I want to get the wall started. I don't want to wait a year and a half until I make my deal with Mexico," Trump said.
He also said: "On the fence — it's not a fence. It's a wall."
Vice President-elect Mike Pence is currently leading an effort to get final approval to begin construction on the wall, Trump said.
Vox has reported that Republicans plan to put the funds for the wall in an appropriations bill in an effort to force Democrats to choose between supporting the wall and shutting down the government.
While campaigning for the presidency, Trump promised to have a wall built along the border and have Mexico pay for it. At his first news conference since the Nov. 8 election, Trump on Wednesday in Manhattan emphasized his supporters' enthusiasm for building the wall, and for having America's neighbor to the south fund construction.
"I would say 'We are going to build a wall,' and people would go crazy," Trump said, noting the size of his crowds. "I would then say, 'Whose going to pay for the wall?' And they will scream out, 'Mexico.'"
The U.S. getting reimbursed by Mexico after construction begins is no different than Mexico paying up front, the president-elect suggested.
"What's the difference," Trump said. "Mexico in some form, and there are many different forms, will reimburse us."
Trump mentioned a tax or a payment as possible methods of reimbursement.
He went on to say he respected the Mexican government and people, but accused them of taking advantage of American policies.
"I don't blame them for taking advantage of the United States. I wish our politicians were so smart," Trump said.
After the news conference, former Mexican President Vicente Fox took to Twitter to excoriate Trump and dispute the president-elect's claims. He said Mexico will not pay for the wall, calling Trump a "bully" and saying America has entered a "new era of dictatorship."
Neither today, nor tomorrow nor never Mexico will pay for that stupid wall. If Trump wants a monument to his ego, let him pay for it!!

— Vicente Fox Quesada (@VicenteFoxQue) January 11, 2017
Current Mexican President Enrique Peña Nieto said in September, after meeting with Trump, that his country would not fund the wall. He said he made that clear to Trump.
KTLA's Melissa Pamer contributed to this article.