This is an archived article and the information in the article may be outdated. Please look at the time stamp on the story to see when it was last updated.
Before Republican presidential candidate Donald Trump's rally in Chicago was canceled Friday evening, violence broke out once again at a rally for the GOP frontrunner in St. Louis, Missouri, where attendees faced off with dozens of protesters, some of whom appeared to have been detained.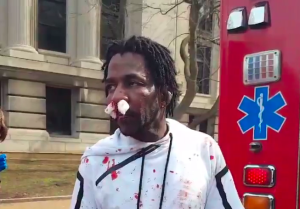 Thousands of people attended the Missouri rally, and "battle lines" were drawn between supporters and protesters, MSNBC reporter Trymaine Lee tweeted.
At least 32 people were arrested in protests both inside and outside Trump's rally at the Peabody Opera House, police said.
Thirty-one people were charged with disturbing the peace, and one was charged with third-degree assault. St. Louis police declined to provide further details.
Meanwhile, Trump's rally in Chicago Friday evening was postponed amid security concerns. Protesters had gathered outside the event at the University of Illinois-Chicago, KTLA sister station WGN reported.
After meeting with law enforcement, Trump decided that "for the safety of all of the tens of thousands of people that have gathered in and around the arena," the event would be postponed, a statement on Trump's campaign site stated.
Thank you very much for your attendance and please go in peace.
At the scene in St. Louis, one man was seen with a blood-spattered shirt and tissues inside his nose, apparently stopping blood from flowing.
In video posted online, he could be heard saying, "he sucker punched me."
It was not clear what led to his injury, and he was receiving medical treatment, according to a Black Lives Matter supporter who used the Twitter username @southards_3.
Protestor receiving medical attention. pic.twitter.com/xGNVLgXzrm

— Marissa in STL (@STLSouthards) March 11, 2016
St. Louis police were on scene, and about seven officials appeared to be pushing a protester down in what Lee said was the first arrest.
Several more protesters were detained inside the venue, and many were led out by police, video from @southards_3 showed.
She later tweeted that she was asked to stop filming by Trump's campaign team.
— Marissa in STL (@STLSouthards) March 11, 2016
It was not immediately known how many people were at the rally, or how many people were detained or arrested.
Inside the rally — which was also heard by thousands outside the venue through loudspeakers, according to Lee — multiple protesters interrupted the event.
"These people are so bad for our country, you have no idea, folks," Trumps said as one protester was escorted out by officials. "They contribute nothing, nothing."
About a dozen protesters appeared to be in the back chanting.
One held a sign that read, "Not your lazy black," with an arrow pointing down.
As another protester was lead out, Trump again lamented.
"Go home to mommy," he said. "Go home, get a job."
The number of protesters unfairly drew media attention, according to Trump.
"The only time they show these massive crowds is when they think there's trouble," he said.
"You'll notice it's singles," he said, referring to the protesters. "It adds up to like four people, but they make a big deal — the riots, the riots. There are no riots."
Those protesters who were escorted out were not physically abused, he added.
"For the press, the officers are being very gentle," he said. "Nowadays we have to say that, right? We have to be politically correct. … They're allowed to get up and interrupt us horribly, and we have to be very, very gentle. They can swing, they can hit people, but if we hit them back it's a terrible, terrible thing."
The incidents were the most recent in a string of violence that has erupted at Trump rallies.
During a Thursday presidential debate, Trump defended his supporters who "swung back" at protesters, saying it was "very, very appropriate."
The statement came hours after one of those supporters was arrested and charged after video surfaced showing a protester being sucker punched at a rally in North Carolina.
Also on Friday, a Breitbart reporter filed charges against Trump's campaign manager, alleging that he grabbed her and bruised her as she attempted to ask a question.
Other altercations included a Secret Service agent allegedly choke-slamming a Time Magazine photographer in February, video capturing a black woman being repeatedly shoved and called "scum" in Kentucky, and a Black Lives Matter protester being tackled, punched, and kicked by rally attendees in Alabama.
The violence was "unprecedented in the history of modern presidential campaigns," CNN reported Thursday.
Thank you St. Louis, Missouri! #MakeAmericaGreatAgain #Trump2016https://t.co/qM1Mwq05j2 pic.twitter.com/MxVFHvHfS3

— Donald J. Trump (@realDonaldTrump) March 11, 2016