This is an archived article and the information in the article may be outdated. Please look at the time stamp on the story to see when it was last updated.
A mountain of food, water and other vital supplies has arrived in Puerto Rico's main Port of San Juan.
But a shortage of truckers and the island's devastated infrastructure are making it tough to move aid to where it's needed most. Only 20% of truck drivers have reported back to work since Hurricane Maria swept through, according to a spokesperson for Puerto Rico's Gov. Ricardo Rosselló.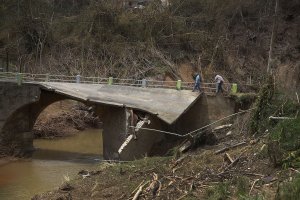 On top of that, a diesel fuel shortage and a tangle of blocked roads mean the distribution of supplies is extremely challenging. Even contacting drivers is a problem because cell towers are still down.
"When we say we that we don't have truck drivers, we mean that we have not been able to contact them," Rosselló said.
Shipping companies have aid and supplies either waiting at the port to be delivered — or held up at ports in the mainland United States.
Shipping company Crowley is one of them. It has 3,000 containers sitting at the Port of San Juan filled with clothes, food, medicine, water, construction materials and even cars.
'This hurricane was catastrophic'
Crowley's vice president in Puerto Rico, Jose Ayala, said the company can't get truck drivers or trucks filled up with diesel to pick up supplies for distribution across the island.
Crowley has only been able to dispatch 4% of its 3,000 containers, he said.
"The problem has been with the logistics, the parts of the supply chain that move the cargo from our terminal to the shelves or to the tables of the people in Puerto Rico," Ayala said Wednesday. "This hurricane was catastrophic."
Meanwhile, Puerto Ricans are waiting hours in line to get gas, food and cash. Gas stations and supermarkets are rationing supplies, while banks are running low on cash.
Natalia Manteiga waited outside a supermarket on Wednesday in Old San Juan that was letting in a few people at a time. She wanted to get water, tuna, and Chef Boyardee for her two children and her husband — who had waited several hours on Tuesday to get $20 worth of gas.
With stifling humidity and temperatures in the high 90s, it started to rain on Mantiega and dozens of other hopeful shoppers trying to get food.
Manteiga, who works for a tourism firm, said she's running low on cash too.
"It's difficult when you have kids: You want to make sure they have enough food," said Manteiga. "They told me the banks are refilling, but we don't know and the lines are very long."