This is an archived article and the information in the article may be outdated. Please look at the time stamp on the story to see when it was last updated.
A rare white wolf who was one of the most recognizable animals in Yellowstone National Park was illegally shot, federal officials said in announcing a reward in the case.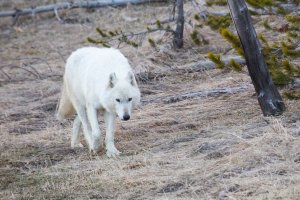 Hikers found the wolf — mortally wounded — inside the park's northern boundary close to Gardiner, Montana, on April 11. Park staff responded but had to euthanize the wolf because her injuries were so severe.
Preliminary results from a necropsy showed the wolf had a gunshot wound, the National Park Service said in a statement Thursday. A U.S. Fish & Wildlife Service forensics laboratory in Ashland, Oregon, performed the necropsy.
The animal was one of three white wolves in the park.
An alpha female of the Canyon Pack, she had lived to 12 years, about twice the age of wolves in the park. She had been with the same mate for more than nine years, producing at least 20 pups.
"She was one of the most recognizable wolves and sought after by visitors to view and photograph," the park service said.
A $5,000 reward is being offered for help leading to the arrest and conviction of the shooter. The shooting is believed to have occurred between 1 a.m. April 10 and 2 p.m. April 11.