This is an archived article and the information in the article may be outdated. Please look at the time stamp on the story to see when it was last updated.
Newborn Kennedy Melina Spohr looks as content as she can be in her baby pictures. But her arrival was anything but peaceful for her parents, who fled the devastating wildfire in Fort McMurray, Alberta.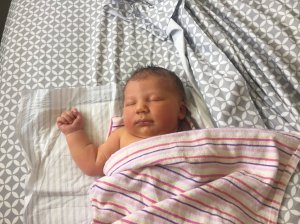 Stefan and Fallon Spohr had just left the Fort McMurray hospital on Tuesday when a firefighter friend told them that the city was going to be evacuated.
Fallon Spohr was due to give birth to their first child that day, and they had just wrapped up a prenatal appointment when they got the news, her husband told CNN.
"We were able to grab important documents and enough supplies for our unborn baby," Stefan Spohr said.
He said they had planned to drive to Edmonton, but the highway was closed and they were sent north towards the oil camps.
"My wife's contractions got stronger so we flagged down some RCMP and got an escort to the Clean Harbors camp," said Spohr, referring to Canada's famed Royal Canadian Mounted Police. Then an ambulance took them to another camp, where a medevac plane flew Fallon to a hospital in Edmonton. Her husband was able to catch another flight about an hour later.
Fallon delivered Kennedy, who weighed in at 9 pounds, on Wednesday evening, he said. The proud dad says mother and daughter are both doing great.
Spohr says they are staying with his sister-in-law in Edmonton right now and will probably relocate to British Columbia until they're able to go home to Fort McMurray. He said they heard on Saturday that their house was safe "for the time being."
"We feel extremely blessed and plan to help our friends if we can," he said.