This is an archived article and the information in the article may be outdated. Please look at the time stamp on the story to see when it was last updated.
Several legal experts say a secretly recorded conversation by a Santa Ana Police detective of a suspect in the deadly nightclub beating of a 23-year-old woman would be difficult to introduce as evidence during trial.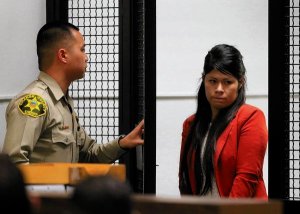 Santa Ana Police Det. Patricia Navarro testified Tuesday that she spent an hour with suspect Vanesa Tapia Zavala inside a jail holding cell.
Navarro had testified Monday that she secretly recorded the conversation after Zavala had refused to talk with police and asked for a lawyer.
Zavala and Candace Marie Brito are accused of killing Kim Pham during a Jan. 18 altercation that left the young woman comotose, and dead just days later. Zavala, 25, and Brito, 27, have pleaded not guilty to murder charges.
Click here to read the full story on LATimes.com.