This is an archived article and the information in the article may be outdated. Please look at the time stamp on the story to see when it was last updated.
Authorities on Tuesday were investigating the cause of a truck explosion that occurred in a residential neighborhood in North Hollywood.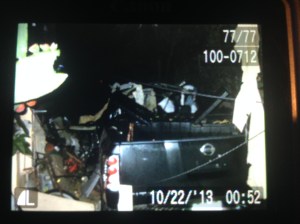 No injuries were reported in the blast, which occurred about 12:30 a.m. and blew out the windows of several homes in the 11300 block of Miranda Street.
The black pickup truck was parked in the yard of a home, authorities said. The vehicle's roof was blown off in the explosion.
"It sounded like a bomb," said Josh Jenkins, a nearby resident.
One or more propane tanks were stored inside the cab of the truck, a law-enforcement source told KTLA, adding that a leak may have ignited the blast.
Preliminary reports indicated that the vehicle may have been for sale and was shown to a prospective buyer on Monday, when a valve on a propane tank may have been unintentionally opened.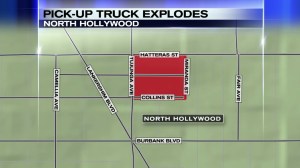 Voluntary evacuations were in effect within a one-block radius of the explosion, authorities said.
The LAPD's bomb squad was at the scene.