This is an archived article and the information in the article may be outdated. Please look at the time stamp on the story to see when it was last updated.
One person was dead after an officer-involved shooting in East Hollywood on Sunday, according to authorities.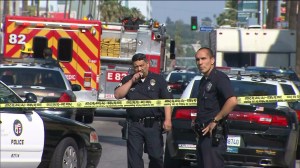 The Los Angeles Police Department responded to a vandalism call around 3:45 p.m. at a 99 Cent Store at 5270 W Sunset Blvd. (map), Dennis Kato, Commander of Operations for LAPD West Bureau said.
Responding officers saw a male with a knife outside of the store and responded with a taser, Kato said.
The male continued to come at officers who then shot him, he said.
No officers were injured, LAPD media relations said.
Video showed that streets were blocked in the area and a Los Angeles Fire Department paramedic truck and as many as a dozen LAPD vehicles were at the scene.