This is an archived article and the information in the article may be outdated. Please look at the time stamp on the story to see when it was last updated.
North Korea put its adversaries on notice Saturday, when it showed off a bevy of new missiles and launchers at its annual military parade.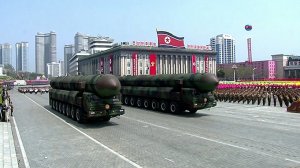 Pyongyang showed off two new intercontinental ballistic missile-sized canisters as well as displaying its submarine-launched ballistic missile and a land-based version of the same for the first time, according to analysts.
If North Korea has ICBMs, it could give it the ability to strike targets in the mainland US and Europe. The shorter range ballistic missiles displayed Saturday, meanwhile, are a threat to countries in the Asian region.
North Korea's display comes as tensions on the Korean Peninsula have spiked to alarming levels.
The US Navy dispatched the aircraft carrier USS Carl Vinson strike group to the region last weekend, and US President Donald Trump has been tweeting this week that if China can't rein in North Korea's nuclear program the US will.
"The Vinson was sent out to make a statement. North Korea responded by showing off the most new missile hardware we've ever seen in a parade before," said Melissa Hanham, senior research associate at the James Martin Center for Nonproliferation Studies in California.
One of the biggest surprises of Saturday's military parade in Pyongyang was two mobile canisters that could contain ICBMs larger than anything North Korea has ever produced.
"They both probably design concepts. We've never seen them in the wild," Hanham said.
"We don't know what — if anything — was inside the canisters since North Korea hasn't publicly shown off or tested any missile of that size before," analyst Ankit Panda wrote on The Diplomat.
"We can infer given the size of the canister and the fact that it was paraded on Saturday that Pyongyang wants the world to know that it is actively working toward at least two types of solid-fuel, canisterized ICBMs," Panda wrote.
The fact that any new ICBM would be in a canister is important because it means those missiles would likely be solid-fueled, analysts said.
Solid-fueled missiles can be deployed faster and hidden better from satellite detection than their liquid-fueled counterparts.
And the large size also means the missiles could have a longer range.
'A message to the United States'
"It certainly appears to be a message to the United States that they're capable of threatening the US homeland. That's certainly their objective," Adam Mount, senior fellow at the Center for American Progress, told CNN.
Hanham said other land and submarine-launched ballistic missiles were shown in public for the first time Saturday. The land-based version is known as the KN-15, while Pyongyang's submarine-launched weapon is known as the KN-11 missile.
She took special note of the launcher the KN-15 was on.
"It uses caterpillar treads which means it can go off road more easily, which mean they can hide them more easily," Hanham said.
North Korea has under 500 miles of paved roads, Panda wrote, and previous wheeled-launchers could risk damage to the missile operating off those.
Hanham said the tracked launch vehicles were made in North Korea, which means Pyongyang did not have to break sanctions imposed by China to obtain them.
Despite all the displays on Saturday, analysts cautioned against overreaction, noting that North Korea's missile tests have had a checkered record of success, and adding that a missile in a parade does not necessarily mean it's operational.