This is an archived article and the information in the article may be outdated. Please look at the time stamp on the story to see when it was last updated.
Work crews were busy Tuesday preparing for another big 405 Freeway closure as part of an ongoing construction project in the Sepulveda Pass, officials said.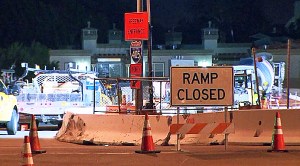 The closure, unofficially dubbed "Jamzilla," will block off multiple northbound lanes of the freeway from February 14 to 18, according to the Los Angeles County Metropolitan Transportation Authority.
To prepare for the Presidents Day weekend closure, the contractor has been busy installing electrical equipment at Bel Air Crest Road, transit officials said.
Bel Air Crest Road was scheduled to be reduced to one lane with flaggers, from Tuesday, January 28 to Friday, January 31, according to the MTA.
The work was scheduled to take place each day between 9 a.m. and 3 p.m., officials said.
Once the February closure gets underway, a 5 ½ mile stretch of the freeway will be blocked off between Getty Center Drive and Ventura Boulevard for 80 hours, the MTA said.
Two of the route's five northbound lanes will be closed during daytime hours, officials said.
All five lanes will be closed between 12 a.m. and 7 a.m.
The southbound I-405 will remain open, but one or two lanes will be reduced during paving operations in the evening.
The February closure comes more than two years after "Carmageddon" and more than one year after "Carmageddon II," in which sections of the freeway were shut down while bridges at Mulholland Drive and Sunset Boulevard were rebuilt.