This is an archived article and the information in the article may be outdated. Please look at the time stamp on the story to see when it was last updated.
Dozens of people gathered in Northridge on Wednesday night to remember a 24-year-old veterinary student who died after his vehicle was struck by a hit-and-run driver.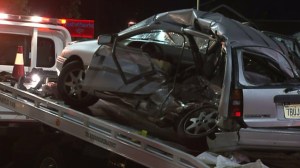 Officers responded to the intersection of Balboa Boulevard and Parthenia Street (map) about 12:15 a.m. after a tan 2001 Ford Ranger pickup truck hit the victim's 1993 Ford Escort, the Los Angeles Police Department's Valley Traffic Division said in a news release.
Robert Ramage, a Northridge resident, was ejected from his vehicle and his body was found in the roadway, police said.
He died after being taken by responding paramedics to a local hospital, according to police.
"My brother's dead, and somebody decided to leave the scene," said Dee Reynolds, standing near the crash site Wednesday morning. "Whoever did this, please some forward. You just killed a 24-year-old boy.
"He was coming home from work," Reynolds said as tears streamed down her face. "He was a veterinary student — good kid … He was a mile from home."
A vigil was planned for 8 p.m. Wednesday to honor Ramage at the site where he was killed.
"If you knew Robert personally, through a friend, or even just met him once, we ask you to come pay your respects as we say goodbye to a loving son, brother, and friend," stated a Facebook post about the vigil on Ramage's personal page. "Spread the word to bring a photo, flower, or anything that reminds you of the memories he left us with."
Ramage had been traveling southbound on Balboa Boulevard when the pickup hit him while going westbound on Parthenia Street, police said.
After crashing into Ramage's car, the truck continued on and collided with a third vehicle that was parked on Balboa Boulevard. The driver of the truck then fled.
He was described only as white, 25 to 30 years old, 6 feet to 6 feet 3 inches tall, and weight 230 to 280 pounds. He was last seen walking southbound on Balboa Boulevard, police said.
An online memorial fund for Ramage was created on the website gofundme.com.
"Rob loved his job working with animals and was well on his way towards his chosen career as a veterinarian," his family said in a statement on the website.
Anyone with information was asked to call Valley Traffic Division Officer M. Tucker at 818-644-8062, or 877-527-3247 during non-business hours.
Those who want to remain anonymous can call 800-222-8477.  Tipsters can also text their tip to 274637, starting the message with "LAPD," or go to LAPDOnline.org and click on "web tips."