This is an archived article and the information in the article may be outdated. Please look at the time stamp on the story to see when it was last updated.
A National Transportation Safety Board official on Sunday said the agency has found no evidence that a FedEx truck was in flames before it struck a charter bus on the 5 Freeway in Northern California earlier this week, in a collision that killed 10 people.
Speaking at a news conference in Red Bluff, about 30 miles north of the crash site, NTSB member Mark R. Rosekind discussed the ongoing investigation into the incident that claimed the lives of five high school students, three adult chaperones and both drivers.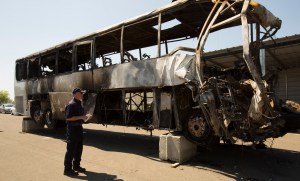 "Our fire expert reviewed the median and highway, and found no physical evidence of fire before the impact," Rosekind said.
The finding seemed to dovetail with one eyewitness' account and conflict with another.
Ryan Householder, who lives near the stretch of the freeway where the incident occurred Thursday evening, told the Los Angeles Times that he saw no flames from the freight truck before it collided head-on with the students' bus.
"When they collided, it was boom!" Householder said.
The big rig sideswiped the Nissan Altima that Bonnie Duran was driving moments before the crash, which ignited a huge blaze and sent plumes of thick black smoke high into the air.
"I looked to my left and I see this FedEx truck coming through the median, and it is in flames and it is coming straight for me," Duran told KTLA on Friday. "I turned my wheel to the right, and it kind of skimmed my front door and smashed in the back door and the trunk and threw me off the road."
NTSB investigators will remain in Glenn County for five to 10 more days, Rosekind said Sunday, before moving on to Los Angeles where they plan to interview survivors of the collision.
The agency expects to issue a preliminary report on the investigation in 30 days, he said.