This is an archived article and the information in the article may be outdated. Please look at the time stamp on the story to see when it was last updated.
A man was in custody Sunday after allegedly stabbing a nurse while she was on duty at Olive View–UCLA Medical Center in Sylmar, authorities said.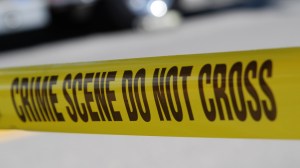 The victim, identified only as a female adult, was in critical condition after being transported for medical treatment, according to Lt. Denise Stephenson of the Los Angeles County Sheriff's Department.
Romero Carnalla, 26, of Los Angeles entered a hospital in the 14400 block of Olive View Drive (map) shortly after 2 a.m., the Sheriff's Department said in a statement.
After bypassing the weapons screening area, he fled into the building and away from security and law-enforcement officers, the statement said.
Deputies and officers were searching the hospital when they heard a woman scream. They then located the woman, who had been stabbed an unknown number of times in the upper torso, Stephenson said.
A knife was recovered at the scene, according to authorities.
The incident is being investigated by the sheriff's detectives from the County Services Bureau, which is responsible for law enforcement at six major hospitals and almost 200 facilities in L.A. County.
Carnalla was being held in lieu of $55,000 bail, a news release stated. He was treated at a local hospital, but the cause of his injuries remained unclear.
Later Sunday morning, a man was arrested after allegedly stabbing a nurse at at a hospital in Torrance, authorities said.
Thomas Robert Fredette, 38, was booked for assault with a deadly weapon and was being held in lieu of $130,000 bail, according to the Sheriff's Department.
The incidents at the two hospitals were unrelated, sheriff's officials said.