This is an archived article and the information in the article may be outdated. Please look at the time stamp on the story to see when it was last updated.
ORANGE, Calif. (KTLA) — A young boy was recovering at a local hospital on Friday after he was attacked by an Ocelot while on vacation in Central America.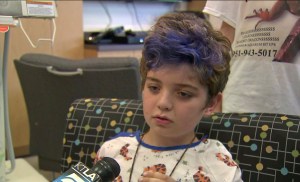 Ronald Altender, 10, was on vacation with his family in Belize when they stopped to visit a zoo.
Ronald reached out to pet the wild cat behind a fence, and that's when his mother said she heard screaming.
"I just lightly touched the fur that was over the fence and it bit my thumb and pulled on it," Ronald said.
"I heard, 'Mommy! Mommy! Help me!'" Holly Altender said.
"The cat just pulled the arm through the fence and got ahold of his finger, and it would not release," she said.
Ronald was rushed to a hospital, and is now receiving additional treatment at Children's Hospital Orange County.
Despite the incident, he said he is not afraid of cats, and he even wants to raise money to make the zoo safer for other kids.
Anyone who wants to donate to the animal sanctuary can visit: www.belizezoo.org.