This is an archived article and the information in the article may be outdated. Please look at the time stamp on the story to see when it was last updated.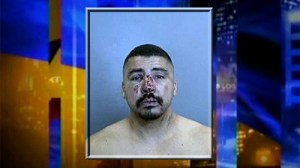 SANTA ANA — A suspected drunk driver has been charged with killing three women by crashing into them at a high rate of speed as they walked home from a baby shower.
Anthony Lewis Sanchez, 40, Buena Park, is charged with three felony counts of vehicular manslaughter causing death with gross negligence while intoxicated, one felony count of driving under the influence causing bodily injury, one felony count of driving with a blood alcohol level of .08 percent.
It happened at 11:00 p.m. on Feb. 9, on Western Avenue in Anaheim.
Investigators say Sanchez was drunk and speeding as he approached the intersection at Del Monte Drive.
At the time,  Carmen Mendoza, 56, her daughter Sheyla Mendoza, 21, and her niece Stephanie Henriquez, 21, were crossing the street on their way home from attending a baby shower.
Investigators say Sanchez killing all three victims with the impact of the crash and never stopped.
If convicted, he faces a maximum sentence of 12 years and eight months in state prison.