This is an archived article and the information in the article may be outdated. Please look at the time stamp on the story to see when it was last updated.
On the second and final day of his visit to Los Angeles, President Barack Obama on Tuesday attended a breakfast fundraiser in Hancock Park and visited DreamWorks Animation studios in Glendale before departing en route to Washington.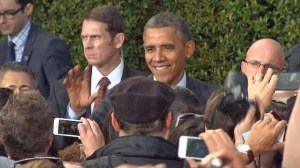 The Democratic National Committee fundraiser was held at the home of producer Marta Kauffman, co-creator of the TV series "Friends." Tickets for the event cost $32,400, according to a DNC official.
Obama was expected to have raised an estimated $2.5 million dollars for House and Senate Democrats during the L.A. visit.
Tuesday afternoon, DreamWorks co-founder Jeffrey Katzenberg hosted the president on a tour of the studio's facilities in Glendale, where Obama delivered a speech on jobs and the economy.
Speaking for nearly 20 minutes, he touted the entertainment's industry's job creation and its far-reaching impact culturally.
"You can say, 'May the force be with you'; they know what you're talking about. Hundreds of millions of people may never set foot in the United States, but thanks to you, they've experienced a small part of what makes our country special," Obama said.
"We have shaped a world culture through you. The stories that we tell transmit values and ideals about tolerance and diversity," he added.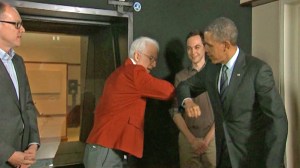 He joked that his ears were among the inspirations for "Shrek," the animated film about an ogre who has protruding ears.
During his studio tour, he got an elbow-bumb from actor Steve Martin, who said he had a cold and declined to shake the president's hand.
Obama departed LAX aboard Air Force One after the Glendale visit and was headed back to Washington, where he was expected to arrive at 9:30 p.m. Eastern Standard Time.
On Monday evening, the president's plane had touched down at Los Angeles International Airport, and his motorcade made its way to Beverly Park, an exclusive enclave in Beverly Hills. Obama attended two receptions in the gated community – one at the home of Laker legend Earvin "Magic" Johnson, the other at the mansion of entertainment mogul Haim Saban.
"We are at an event here because we understand that part of our democracy, part of this amazing experiment we're engaged in, is we've got to run around and we've got to raise money and we've got to make speeches and we've got to go to rallies and we've got to get folks fired up," Obama said at the Saban event, according to a transcript provided by the White House.
"But I also want everybody to remember the stakes involved in these things — that family and that kid who's sick; the people who we need to protect; the troops and their families back home. Ultimately, this translates into real-life consequences," Obama said.
Among the guests at those functions were actors Samuel L. Jackson, Tom Hanks and Diane Keaton.
After introducing the president as "the greatest leader in the world," Johnson took to Twitter to describe Obama's visit.
I have won 5 NBA Championships, 3 MVPs and an Olympic Gold Medal but hosting Pres. Obama at my home was greater than all of those moments!

— Earvin Magic Johnson (@MagicJohnson) November 26, 2013
"I gave him a tour of my Laker Trophy room where we talked basketball and I even gave him some tips on how to improve his jumpshot! LOL," he wrote.
Earlier in the evening Monday, the president met with relatives of Gerardo Hernandez, the Transportation Security Administration agent who was shot and killed by a gunman at LAX on Nov. 2. Obama also met with two other TSA employees who were wounded in the shooting.
KTLA's Melissa Pamer and Jennifer Gould contributed to this report.