This is an archived article and the information in the article may be outdated. Please look at the time stamp on the story to see when it was last updated.
President Barack Obama arrived in Palm Springs Friday around 6:40 p.m. for a Southern California weekend that includes his planned Saturday commencement speech to a UC Irvine graduates at Angel Stadium.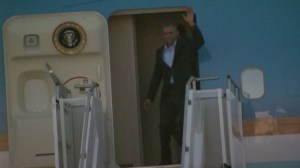 After staying Friday evening in the Palm Springs area, Obama and first lady Michelle Obama were set to fly from Palm Springs to Los Alamitos Army Airfield, arriving at 9 a.m. Saturday.
Obama will attend a private Democratic National Committee fundraising event at a home in Laguna Beach at 9:45 a.m. before heading to Anaheim for his commencement address, according to the White House.
After his UCI graduation speech, slated for some time between 11:30 a.m. and 1 p.m. at Angel Stadium, Obama will return Los Alamitos airport and onto Palm Springs, where he will stay until Monday morning, the White House stated.
Security was expected to be heavy for the UCI ceremony, where some 8,000 undergraduate and graduate students will be awarded degrees.
Obama's speech will mark the 50th anniversary of President Lyndon B. Johnson's address for the dedication ceremony of the land that would become the university.
Private pilots will face flight restrictions in the area of Palm Springs International Airport and Los Alamitos Army Airfield during the president's travel near those facilities, the Los Angeles Times reported. Other Orange County airports will be affected as well, the newspaper reported.
The cities of Anaheim, Newport Beach and Laguna Beach issued a traffic advisory for Saturday that affects the following streets at stated times:
Northbound and southbound Pacific Coast Highway will be closed from Newport Coast Drive in Newport Beach to Ledroit Street in Laguna Beach from 8:30 to 8:50 a.m. and from 10 to 10:20 a.m.
Katella Avenue and Douglas Road will be closed in Anaheim from 10:30 a.m. to 2 p.m.
The northbound and southbound 57 Freeway will be closed at Katella Avenue in Anaheim from 1 to 1:10 p.m.