This is an archived article and the information in the article may be outdated. Please look at the time stamp on the story to see when it was last updated.
Sheriff's deputies are looking for more victims of indecent exposure allegedly by a professor at a university in Fullerton, deputies announced Wednesday.
Dong-Hyun Huh, an anthropology professor at Grace Mission University, is accused of pulling his pants down and exposing himself to two women on Sept. 15.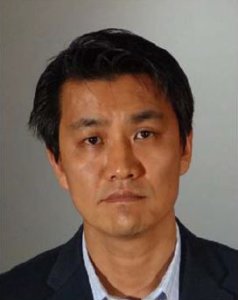 L.A. County Sheriff's deputies say the first incident happened on Marquardt Avenue and Ashworth Street in Cerritos. The victim, a 34-year-old woman, told authorities Huh was sitting in his car when he yelled at her get her attention. When she stopped, he said he was lost and needed directions.
As the victim walked up to his driver's side window, she saw Huh had his pants down and his genitals fully exposed, according to deputies.
The victim ran off.
Shortly after, Huh exposed himself and masturbated in front of a 19-year-old woman on Gridley Road and Artesia Boulevard in Artesia, deputies said.
The same type of white, Lexus SUV was involved in both incidents, according to investigators.
"He lured the two victims to his car and asked for a certain direction. That's when he exposed himself to them," said Capt. Joseph Nunez with the Sheriff's Department.
Huh was arrested Tuesday and is out on bond. He is awaiting arraignment on two counts of indecent exposure.
Authorities are now looking for potential additional victims, something they believe is likely considering Huh's work in a school setting.
"Our concern is that this person became bolder as he was allowed to continue down this pathway," Nunez said. "The fact that he works in a school profession, they need to know if there was anything similar to this that they report it."
Investigators say Huh was driving a white, 2017 Lexus NX 200t.
Anyone having information can contact Detective Ryan Clinkingbeard at 562-860-0044. Anonymous tips can also be submitted via Crime Stoppers at 800-222-8477.