This is an archived article and the information in the article may be outdated. Please look at the time stamp on the story to see when it was last updated.
An off-duty Los Angeles County Sheriff's Department deputy is in critical condition after being shot in the head at a Jack in the Box restaurant in Alhambra Monday, authorities said.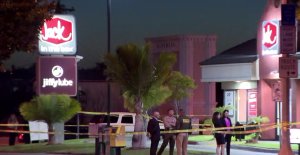 The deputy was standing at the counter in the restaurant, wearing civilian clothes, when a man armed with a handgun approached him and shot him once in the head, Sheriff's Department officials said as they stood outside County-USC Medical Center, where the deputy was hospitalized. The gunman then fled the scene right after the shooting at about 6 p.m. The shooting – at a restaurant location in the 2500 block of West Valley Boulevard – was caught on tape, according to LASD Capt. Kent Wegener. Sheriff's officials said there does not appear to be a clear motive in this case.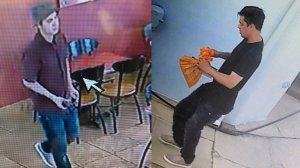 The suspected gunman was seen driving away from the scene in a white four-door Kia Sorento SUV with paper plates, the Sheriff's Department said. Surveillance video from a nearby home showed that the suspect then stopped the car in an adjacent residential neighborhood and changed into a black T-shirt and dark jeans before driving away in the same car, Wegener said. The gunman was described as a white or Latino man in his 20s, standing at about 5 feet 9 inches to 5 feet 11 inches tall. At the time of the shooting, he was wearing a burgundy button-down short sleeve shirt, jeans, sunglasses and a fedora. Aerial video from Sky5 showed officers searching a dumpster outside the restaurant and speaking to people at a home in a nearby residential area, where several police cars were stopped.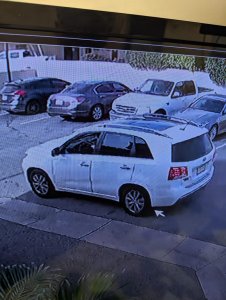 Investigators were reviewing forensic evidence  and interviewing witnesses at the scene, authorities said. Several customers were at the restaurant during the shooting, LASD said.
Officials have not named the deputy.
Valley Boulevard was shut down in both directions as investigators worked. An LASD helicopter was seen searching the area. "It's time to turn him in," Wegener said. "You don't want to be associated with this man, and the Sheriff's Department is going to spare no resources to locate this suspect." The investigation is ongoing. No further details were immediately available. Anyone with information was encouraged to call homicide detectives at 323-890-5500. To remain anonymous, call Crime Stoppers at 800-222-8477.