This is an archived article and the information in the article may be outdated. Please look at the time stamp on the story to see when it was last updated.
WHITTIER, Calif. (KTLA) — An off-duty law enforcement officer was stabbed multiple times after interrupting a burglar in his home.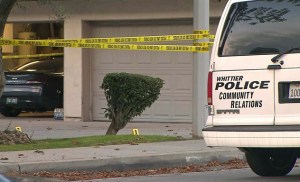 It happened just before 3:30 p.m. Thursday in the 5400 block of Pioneer Boulevard in Whittier.
The officer was transported to the hospital with non life-threatening injuries and suffered "superficial wounds," authorities said.
The burglar, described as a black male, was last seen heading northbound on Pioneer in a red sedan.
It wasn't known if the suspect was hurt in the scuffle with the officer.