This is an archived article and the information in the article may be outdated. Please look at the time stamp on the story to see when it was last updated.
Law enforcement officers who faced off with Christopher Dorner at a cabin near Big Bear have been formally cleared of wrongdoing by the San Bernardino County district attorney's office.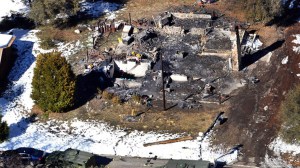 In a 59-page report released Tuesday, officials said the many sheriff's deputies, police officers and game wardens who were involved in the standoff violated no laws and "had no choice" but to engage in a fierce firefight with the fugitive.
Holed up in the cabin, Dorner eventually killed himself with a gunshot to the head. The report laid the blame for his demise at Dorner's own feet.
For hours, prosecutors wrote, he refused to give himself up and unleashed "a lethal barrage" of gunfire on law enforcement officials who had surrounded the cabin.
Click here to read the full story on LATimes.com.