This is an archived article and the information in the article may be outdated. Please look at the time stamp on the story to see when it was last updated.
In hot and dry conditions and on rugged terrain, firefighters improved containment Thursday of a wind-driven brush fire in Rancho Cucamonga that was estimated at 1,627 acres.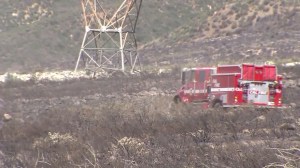 Dubbed the Etiwanda Fire, the blaze was first reported by residents Wednesday morning. It spread quickly from a remote canyon (map) into the San Bernardino National Forest and south toward homes.
The estimated size of the fire was changed from 1,000 acres to 1,627 acres, according to a 6:15 p.m. Thursday update from Cal Fire.
The blaze was 53 percent contained as strong Santa Ana winds continued to affect firefighting efforts, Cal Fire stated.
Initially, high winds had prevented firefighting aircraft from launching to map the blaze from above and the estimate had remained Thursday morning at 1,000 acres, the same as Wednesday's acreage, according to John Miller of the U.S. Forest Service. Containment had been given as 10 percent on Thursday morning.
Crews had worked all day Thursday to extend containment lines and strengthen existing ones. More than 900 fire and law enforcement personnel were working on the Etiwanda Fire, according to Cal Fire.
No big patches of smoke or flames were visible, but firefighters said the ground was still hot and a blaze could spark up at any minute. Dry vegetation in the area has not burned since a 2003 wildfire.
A red flag warning was in effect for the region through 8 p.m.
"We're not out of the woods yet," said Brian Grant of the U.S. Forest Service. "The winds are still gusting 25 to 35 (mph) today with relative humidity of 5 percent, which is really low."
Two firefighters had sustained minor eye injuries, Rancho Cucamonga Fire District Chief Mike Bell said.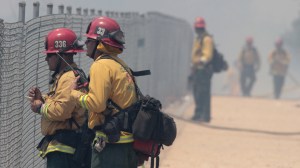 Although one home was damaged, most of the overnight burn was within contained areas, Incident Command Team spokesman Carlos Guerrero said.
"We anticipate a good day, hopefully nothing will happen but we're prepared to manage it if it does occur," Bell said Thursday morning.
The biggest concern was that winds would cause the fire to push west near Deer Canyon, Guerrero said.
Two air tankers and several helicopters were on standby Thursday, but could not fly unless winds dipped below 30 mph. Firefighting aircraft could not launch Wednesday due to winds that gusted up to 70 mph, fire officials said.
On Thursday afternoon, an air-attack supervisor was able to fly in a plane over the burn area, and the information gathered was being evaluated to determine whether to use aircraft to help battle the blaze, the Los Angeles Times reported.
Winds were expected to be between 30 and 50 mph, with occasional 60 mph gusts, Guerrero said.
Mandatory evacuations for nearly 1,700 homes were lifted Wednesday night and none were in place Thursday.
"The message is ready, set, go," Bell said. "Be ready just in case something changes … be prepared in case you're asked to leave, and to cooperate if those orders are given."
Several schools remained closed Thursday: Alta Loma High School, Banyon Elementary, Caryn Elementary, Etiwanda High School, Golden Elementary, Day Creek Intermediate, Los Osos High School, Rancho Cucamonga High School, and Chaffey College.
Early red flag warnings from the National Weather Service had prompted Cal Fire and the U.S. Forest Service to preposition firefighters in Southern California, authorities said.
The cause of the fire was under investigation.
KTLA's Melissa Pamer and Anthony Kurzweil contributed to this article.