This is an archived article and the information in the article may be outdated. Please look at the time stamp on the story to see when it was last updated.
SAN BERNARDINO, Calif. (KTLA) — The arsonist convicted of murdering five men who died of heart attacks during the Old Fire was sentenced to death by a judge on Monday.
Rickie Lee Fowler, 31, was convicted last August of five counts of first-degree murder and two counts of arson in connection with the 2003 blaze.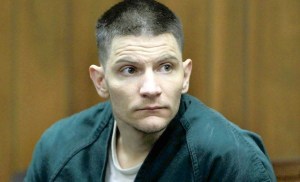 A jury recommended in September that he die by lethal injection.
The fire burned for nine days, charring 91,000 acres in the San Bernardino Mountains and destroying more than 1,000 structures.
Five men died after their homes burned or as they tried to evacuate, and prosecutors blamed the related stress.
Fowler became a suspect in the blaze after witnesses reported seeing a man in a white van tossing burning objects into dry brush.
Investigators interviewed Fowler several months after the fire, but didn't have enough evidence to file charges until six years later.
Fowler was serving time for burglary when he was charged with starting the Old Fire.
While in prison, he was convicted of sodomizing an inmate and sentenced to three terms of 25 years to life.
Prosecutors argued that Fowler started the blaze out of anger after he was thrown out of a house where his family was staying.
They emphasized his long criminal history, including convictions for burglary, robbery and rape, painting him as a sadistic felon.
Prosecutors also said Fowler gave authorities a note in 2008 acknowledging that he was there when the fire began. He later claimed he was pressured into making a confession.
Defense attorneys maintained that Fowler never acknowledged starting the fire.
They also said that he suffered a horrific childhood with methamphetamine-addicted parents and a neighbor who molested him.