This is an archived article and the information in the article may be outdated. Please look at the time stamp on the story to see when it was last updated.
Thousands of revelers descended on Grand Park in downtown Los Angeles on Tuesday for a New Year's celebration that officials hope will someday rival those in New York and other cities worldwide.
The inaugural "N.Y.E. LA" event began at 6 p.m. and was expected to culminate at midnight with what organizers described as a "highly visual digital mapping display, the size and scope of which has never been seen in Los Angeles," projected onto 22 stories of City Hall.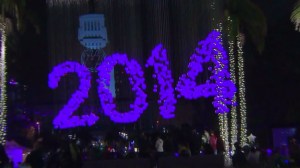 "Grand Park is the perfect location for a big New Year's Eve celebration, with lots of open space right in the heart of downtown's L.A.'s Civic Center," Los Angeles County Supervisor Gloria Molina said. "It's already proven a perfect locale for similar public gatherings – including the 2012 presidential election, CicLAvia, Mayor Eric Garcetti's swearing-in celebration and a Fourth of July fireworks spectacular."
Encompassing a 12-block area between Hope Street and Spring Street, the event featured musical performances, dancing, interactive art installations and roving performance artists.
Video screens were erected in the park and at Music Center Plaza, so that guests could view the festivities from any vantage point in the area.
"I'm excited because they didn't really have anything going on in L.A. before," said an attendee who identified himself as Alex.
His friend Danny added: "It was a great idea … and it's free. You can't beat free. And the food, music – you can't beat that, too."
UPDATE: The Park is at capacity. For a good view of the midnight 3d show please use the @musiccenterla plaza

— Grand Park LA (@GrandPark_LA) January 1, 2014
Also slammed with people at the @grandpark_la #nyela party: the steps of L.A. City Hall. pic.twitter.com/uMaLc8BrV7

— Zach Behrens (@ZachBehrens) January 1, 2014