This is an archived article and the information in the article may be outdated. Please look at the time stamp on the story to see when it was last updated.
All airlines located in Terminal 3 at Los Angeles International Airport returned to normal operations Sunday, two days after a gunman went on a deadly shooting rampage disrupting travel, authorities said.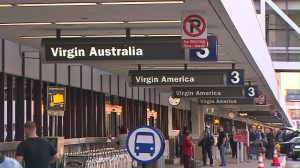 Allegiant Air, Frontier, JetBlue, Spirit, Virgin America and Virgin Australia are all housed in Terminal 3, according the Los Angeles World Airports website.
JetBlue, which redirected flights to Long Beach Airport immediately after Friday's shooting, was the last airline in T3 to fully resume service at LAX, according to airport spokeswoman Nancy Castles.
Jetblue returned to its normal flight schedule at LAX Sunday, Castles said in a statement.
An estimated 1,550 flights and 167,050 passengers were impacted by cancellations or delays Friday, Castles said.
An additional 40 flights were affected Saturday, according to airport officials.
Federal authorities also announced that criminal charges had been brought against the man suspected of killing a Transportation Security Administration agent and wounding several others in Friday's shooting.
Paul Anthony Ciancia, 23, was charged with two counts – murder of a federal officer, and commission of violence at an international airport, according to a criminal complaint filed Saturday in the U.S. District Court for the Central District of California.
About 9:20 a.m. Friday, Ciancia walked into Terminal 3 and "pulled a Smith & Wesson .223-caliber MP15 assault rifle out of his bag and fired multiple rounds, at point-blank range," at TSA Officer Gerardo I. Hernandez, said U.S. Attorney Andre Birotte, Jr.
Hernandez, 39, was killed. Two other TSA agents and one civilian were wounded by gunfire, authorities said.
Two people suffered "evasion injuries" as they scrambled to avoid the shooter, officials said.
Earlier the American Federation of Government Employees, the union representing TSA workers, had identified Hernandez as a "behavior detection officer" or "BDO" who had recently relocated from Montana.
On Sunday the union issued a correction saying Hernandez was a "Transportation Security Officer, not a BDO" and he did not move to California from Montana.