This is an archived article and the information in the article may be outdated. Please look at the time stamp on the story to see when it was last updated.
HAWTHORNE, Calif. (KTLA) — The owner of a rottweiler that was shot and killed by Hawthorne police was charged Tuesday with multiple felony counts.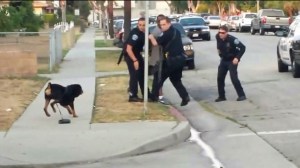 Leon Rosby, 52, turned himself in after being charged with intimidating a witness and making criminal threats.
The incident back in June received national attention after video showed Hawthorne police shooting and killing Rosby's dog.
It all started when Rosby took video of police officers outside a barricade in Hawthorne, about 15 miles southwest of downtown Los Angeles.
Rosby was walking his Rottweiler, Max, and recording the stand-off with armed robbers on his cell phone camera.
As police approached Rosby, he could be seen placing his dog in his car and then putting his hands behind his back to be arrested.
As Rosby was being handcuffed, Max started barking and jumped out of the car.
When Max approached the officers, one of them shot him four times.
A bystander recorded video of the dog lunging at officers and being shot, then posted it on YouTube.
Hawthorne police then released a second video taken by a second witness at the scene that showed more of the officer's actions before the shooting.
After that video was released, Rosby allegedly went to the home of the witness and verbally confronted her and her son, police said.
If convicted, Rosby could face up to five years in prison.