This is an archived article and the information in the article may be outdated. Please look at the time stamp on the story to see when it was last updated.
The owner of a Sylmar property where a fire killed a family of four Monday is "very distraught" over the tragedy, her attorney said.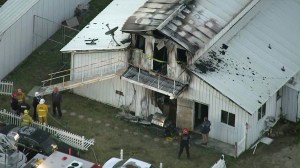 Firefighters were called to the converted, metal-clad barn in the 13700 block of Eldridge Avenue about 4:30 a.m. After kicking down the door of the two-story structure, firefighters found the father a few feet from the front door, his wife and two young children huddled together nearby. All four were unresponsive, and were pronounced dead after being taken to hospitals.
The victims were identified as Uriel Estrada, 41; his wife, Maria Estrada, 40; and their children, Isabel, 12, and Alejandro, 7.
Brian Weinberger, an attorney for property owner Leonarda Aguilar, said his client is "very distraught over this tragic occurrence" and is fully cooperating with arson investigators. Los Angeles Fire Capt. Jaime E. Moore said the woman was teary-eyed and emotional as she walked through the property with investigators Monday afternoon.
Click here to read the full story on LATimes.com.