This is an archived article and the information in the article may be outdated. Please look at the time stamp on the story to see when it was last updated.
PALMDALE, Calif. (KTLA) — Family and friends of a 13-year-old boy from Palmdale are mourning their loss after he took his own life.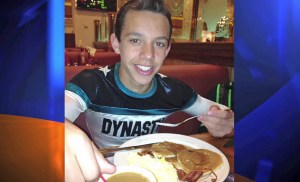 Authorities say Nigel Hardy was despondent about a recent suspension from Hillview Middle School in Kern County.
On Monday, Nigel's father alerted authorities when he found a suicide note in his son's room and discovered his gun was missing.
A gun was found near the boy's body, which was discovered at a restaurant 20 miles outside town, Kern County sheriff's officials said.
Hillview's principal, Robert Garza, would not comment specifically on any disciplinary actions taken against Nigel.
But he said that the school had handled the situation appropriately.
Friends say that Nigel was sometimes bullied and mocked for his participation in an extra-curricular cheerleading club, AV Dynasty All-Stars.
One of his friends said he was with him on Friday when he punched another student who harassed him for cheerleading.
After he was suspended from school, Nigel told his friend that his phone was being taken away. That was the last time he heard from Nigel.
Westside Union School District Superintendent Regina Rossall offered her condolences in a statement:
"Our hearts are with the parents and family of Nigel Hardy as they deal with this tremendous personal loss," she said.
Nigel began attending Hillview about 12 weeks ago after moving from out of state, according to Garza.
He said he had a good relationship with the boy and his mother, and that the school is devastated by what happened.
Grief counselors were being made available to students, and the school will hold a community meeting next week.