This is an archived article and the information in the article may be outdated. Please look at the time stamp on the story to see when it was last updated.
ATLANTA — America has its first panda twins in 26 years.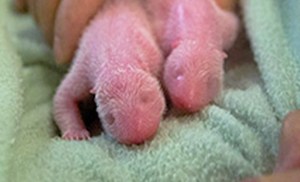 The tiny pair were born to mother Lun Lun, a 15-year-old giant panda, at Zoo Atlanta on Monday, the first arriving at 6:21 p.m. and the second at 6:23 p.m. The zoo did not immediately know the gender of the cubs.
The twins are the first for Lun Lun, who has two other offspring at Zoo Atlanta, and are the product of artificial insemination. Their father is 15-year-old Yang Yang, also a resident at Zoo Atlanta.
"We're thrilled to welcome Lun Lun's and Yang Yang's twins. This is a success we share with all of our fellow zoological organizations working to understand and protect this iconic species, and we share our joy with our local community and with our colleagues in China," Raymond B. King, president and CEO of Zoo Atlanta, said in a statement.
Click here to read the full story on CNN.com.