This is an archived article and the information in the article may be outdated. Please look at the time stamp on the story to see when it was last updated.
Two days after the arrest of an eighth-grade teacher suspected of sexual misconduct with students, a parent meeting was held at Nicolas Junior High School on Monday evening.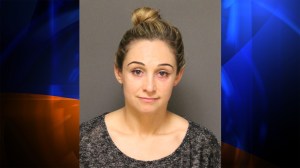 Melissa Lindgren, a 28-year-old teacher at Nicolas Junior High School, was arrested Friday, within five hours of the school district discovering the allegations, according to police.
She allegedly sent nude photos of herself to at least one student and had inappropriate sexual conduct with two male students, police and the Fullerton Unified School District stated.
Lindgren, a La Mirada resident, was charged with felony child molestation, child annoyance and the dissemination of harmful matter to a minor, Fullerton police announced Saturday. She posted $100,000 bail was set to be arraigned April 9, police said.
She was taken into custody after "admitting felony sexual misconduct with two male students," the school district stated.
Lindgren allegedly had sexual contact with at least two students on campus, in a classroom, according to a source familiar with the investigation who asked not to be identified.
Geovanny Romero, a former student, said he wasn't surprised by the allegations.
"She used to be a little flirty sometimes with the other male students," Romero said. "She would kind of joke about going on dates with some students."
But the mother of a female student of Lindgren said there were no indications anything was amiss.
"The impression of her was completely, just, another teacher. No feeling of pedophile, weirdo whatsoever," said parent Yvette Taylor.
The alleged sexual misconduct was reported by "two brave students," the school district said in a statement on the "unfortunate situation" that was posted on its website.
"If a staff member acts contrary to policy, it is the district's goal that students have the resources, and strength, to report untoward behavior of any kind and those reports are investigated quickly," the district stated. "In this unfortunate and unlawful situation, the students' complaint was thoroughly investigated and swift action was taken."
Lindgren was placed on administrative leave, the district stated.
KTLA's Eric Spillman and Chip Yost contributed to this article.