This is an archived article and the information in the article may be outdated. Please look at the time stamp on the story to see when it was last updated.
A spoof on Pharrell's popular song "Happy" has called attention to the deteriorating state of Los Angeles sidewalks and won the approval of Mayor Eric Garcetti.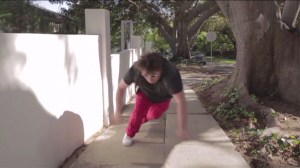 Honora Talbott created and directed the parody, which was published Tuesday, the same day two Los Angeles officials proposed increasing taxes meant to improve sidewalks.
The half-cent sales tax increase on the November ballot would raise money for road and sidewalk repairs, the Los Angeles Times reported.
The parody quickly got the attention of Garcetti, who tweeted the video to his more than 36,000 followers.
Yes, it is time to fix our sidewalks–this will be a part of this year's budget plans but love this video parody: http://t.co/YEoF4Msr3u

— Eric Garcetti (@ericgarcetti) March 19, 2014