This is an archived article and the information in the article may be outdated. Please look at the time stamp on the story to see when it was last updated.
A multitude of Target customers across the U.S. took to social media on Sunday to express their frustration over a payment-system outage and long lines at many of the retailer's stores.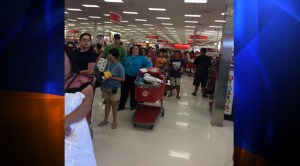 "Chicago-area Target stores are dead in the water for past 2.5 hours," shopper Brian Cronenwett said on Twitter.
"Yep! The one on Mira Mesa in San Diego," tweeted Macneil Shonle. "Even the Starbucks inside had slow or downed registers."
Customers in Culver City, Eagle Rock, San Clemente and Salt Lake City also reported similar incidents at stores in those cities.
"Target has identified an issue impacting checkout at some of our U.S. stores," spokeswoman Molly Snyder said Sunday evening in an email to KTLA. "The glitch is causing delays at some checkouts, but is not in any way related to a security issue.
"We apologize to anyone impacted, and we are working with guests in stores where the issue has not yet been resolved to accommodate their needs," she continued.
In a follow-up email about two hours later, Snyder said the company's checkout process had been restored.
Meanwhile, the retail giant's @AskTarget Twitter account was responding to individual complaints on the social media platform.
The incident comes about six months after Target announced that the credit- and debit-card numbers, as well as encrypted PIN data, of up to 40 million customers were stolen between Nov. 27 and Dec. 15.
On Jan. 10, the company acknowledged that some 70 million customers had personal information stolen in the security breach, including email addresses.
Fallout from the massive hack led to the resignation of Target CEO Gregg Steinhafel, a 35-year veteran of the corporation, on May 5.